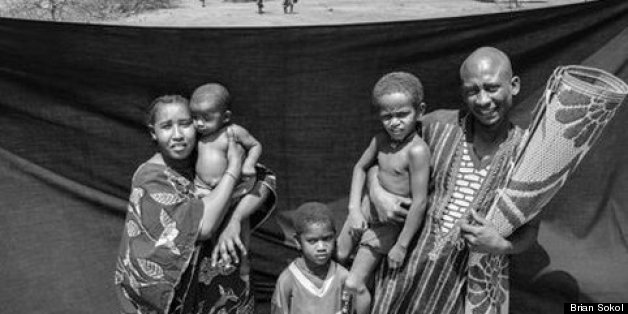 When Mariam Diallo fled her home in Mali after Islamists threatened her for not wearing a full head scarf, she decided to grab her favorite pair of intricate earrings before setting off to a refugee camp: Beyond just being an accessory, they symbolized her freedom.
For others who fled Mali for encampments, the choices they made about what to take with them reveal what is most important -- a piece of carpet was a reminder of home; a turban represented identity and faith. Photographer Brian Sokol has documented these items and their owners for a series called "The Most Important Thing," illustrating the stark choices behind what individual items refugee families take with them when they flee.
The freelance photographer, in partnership with the United Nations High Commissioner for Refugees, has taken pictures of refugees from South Sudan, Syria and Mali. Sokol hopes to raise awareness for the world's estimated 45.2 million refugees, a number that is at a 19-year high, according to the UNHCR.
In the below photos shared by Sokol with The Huffington Post, he photographed Malian refugees who fled south to a displacement camp in Burkina Faso.
Agade Ag Mohammed, 71, and his family fled Mali after their relatives were kidnapped and killed. He said his "Most Important Thing" was a walking stick, which supported him on his journey.
"I was so tired and scared on the journey that if I heard the wind whistling through a water jar, I would shrink in terror," he told Sokol.
Refugees began fleeing Mali, a nation of almost 16 million in West Africa, after Taureg rebels took over northern areas of the country in March 2012, but were then pushed out by Islamic extremists. They enforced their dominance with public executions, amputations and other acts of violence, the Associated Press reported.
Sokol said he's had stones and curse words in countless languages cast his way, but the most inspiring thing he witnessed was the general sense of fortitude and gratitude displayed by the refugees he photographed.
"These people are so grateful in the camps," he said. "After coming from war-torn areas complete with AK-47s and dead bodies, at least they know nobody's trying to set their tent on fire."
The photographer took his photos in displacement camps or private residences after refugees had fled bombings, threats and militias attempting to kill residents. Some were taking refuge in a shelter, while others were urban refugees trying to live off the local economy, the photographer said.
Sokol, who is 37 and now lives in Manhattan, said the refugees' respective items of choice were often the more revealing portrait. Syrians tended to prize items of nostalgia -- a key to their house, for example. Malians often gravitated to things that tied them to their cultural identity, perhaps because a majority of them are ethnic minorities, Sokol suggested. "For Malians, they chose items that might have represented cultural identity rather than an individual identity."
The main causes behind the global refugee crisis, which equates to a new displaced person every 4.1 seconds, are war and lack of funding for displaced people, said UNHCR spokesman Brian Hansford. UNHCR helps refugees by providing aid and helping with resettlement, among other long-term solutions. The greatest challenges are monitoring relocations at the border, gaps in funding and timely distributions of aid, Hansford said.
"Where there is insecurity, it's difficult in all situations of conflict. When you have convoys of trucks with relief items going on dangerous missions, the issue of access is extremely acute," he said.
Despite security challenges, Sokol said that people would invite him into their makeshift residences without hesitation. "They have to queue for hours for grains they have and they are offering it to me as a complete outsider," he said. "I walk down streets of Manhattan and see millionaires and hipsters, and I see less smiles on those sidewalks than in a refugee camp."
He said the hardest part about the project is forging close personal relationships, not knowing whether his advocacy efforts will ultimately trickle down to help the individual he's talking to. "They'd tell me 'I lost my brother and children and I had to decide which child I would carry back,'" Sokol said. "You talk to them and realize the project is more about the stories than the photographs. The photos are more of a way to get them to read the captions."
Sokol said he partnered with the UN for the project in order to remind the world of every refugee's individuality. "Images can dehumanize people," he said. "There is no way you can mistake this person with a statistic with these photos. This person is obviously an individual."
BEFORE YOU GO
PHOTO GALLERY
"The Most Important Thing," Malian Refugees