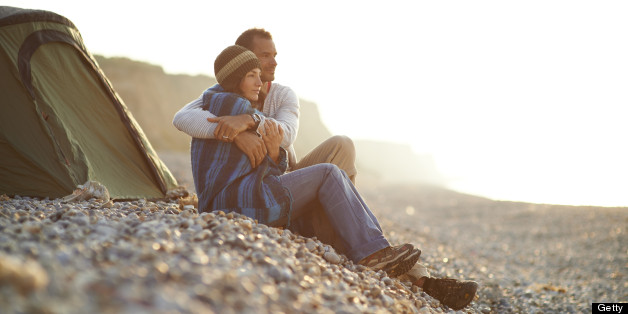 This article originally appeared on Date Night Is...
In case you hadn't noticed, Independence Day is just around the corner. Perhaps it's not the most romantic holiday, but this year's impending four-day weekend does make for the perfect excuse to squeeze in a date night. And while there's nothing wrong with the usual array of backyard BBQs and evening fireworks to celebrate our nation's independence, we think that you can do a little better when it comes to celebrating your relationship.
Here's the official Date Night Is... guide to creating your very own 4th of July fireworks:
Go Camping
There isn't much that's more American than your friendly neighborhood National Park. There's something calming about reconnecting with nature and that feeling is even stronger when it's on a piece of land that someone has gone out of their way to protect for future generations. What a park lacks in fireworks, it'll make up for in uninterrupted views of the stars and the crackle of a campfire that's perfect for cozying up next to.
Seek Water
If there's one thing we can all agree on about summer, it's HOT. If there's another thing we can agree on, it's that HOT is better near water. Just because you don't own a boat, doesn't mean that you can't enjoy one for the day. Find a craft near you on Airbnb (yep, the same one you use for apartments) or check out Incrediblue and GetMyBoat, both of which bill themselves as "Airbnb for boats." If cruising the high seas isn't your thing, chances are there's a lake or a river nearby. Don't forget those other waterbound activities like rafting, tubing, or kayaking that might be easier to find nearby. And if all else fails, head to the neighborhood pool to lounge in the sun and enjoy the cool breeze off the water.
See a Movie in a Whole New (or Old) Light
Make your movie experience extra special by heading to the drive-in. They're tough to find, but there are some still around. DriveInMovie.com is a good starting point to find a theater near you, but definitely call ahead to be sure they're open and to see what's showing.
Go to a Museum
Want to get out of the house but can't fathom the idea of a day outside? While everyone else is roasting (both themselves and their celebratory burgers and dogs), head to a nearby museum to bask in their air conditioning and learn something in the process. Most museums are open on holidays like the 4th of July (and certainly through the weekend), and finding a day when they're not suffering from the usual crowds will make the bastion of cool air that much more welcoming.
Hide Out at Home
We get it. Sometimes, no matter what the holiday, you just want to hide out at home. So crank up the A/C, put the blender through its paces, and get ready to over-indulge by sharing an entire watermelon between the two of you. This is the perfect time to catch up on all of those episodes of "Lost" that you missed or to find a new soon-to-be-favorite on Netflix to marathon, guilt-free. Of course, if cool and collected isn't your style, you might choose to turn the A/C down a bit so that it's warm enough to lounge in your skivvies for the day...and possibly work up a good sweat.
Who says the fireworks have to happen outside?
More Date Ideas from Date Night Is...
Date Night Is... A Secret from Faris & Rosie
Date Night Is... A Powerful Weekend
Date Night Is... Best When It's Indulgent & Impractical
Keep in touch! Check out HuffPost Weddings on Facebook, Twitter and Pinterest.