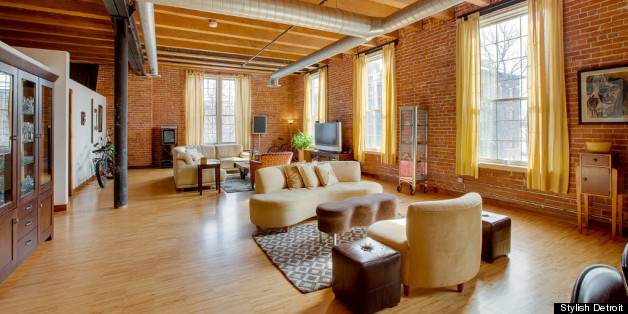 A wide-open living space with industrial accents, floor-to-ceiling windows, soaring ceilings, far-reaching views over a spread out city, and, if you're lucky, roof access. Loft living has many appealing features for city-dwellers: recent retirees, studenst or young professionals. With exposed brick and pipes, many also have a (sometimes intentional) raw quality -- one that some would say feels very Detroit.
Perhaps that's one of the reasons people, including plenty of first-time residents of the city, are looking for lofts to rent or own.
"Most of our clients are coming from out of state or relocating from the suburbs," said Austin Black II, broker and president of City Living Detroit, which offers properties in the greater downtown area, including many lofts.
(Scroll down for photos of some of the most stunning lofts of the market in Detroit right now.)
Steven Patterson, a veteran, moved to the city with his wife from rural Alabama after he received a scholarship from Wayne State University to study engineering.
While his wife was picturing making their new residence a house, Patterson was envisioning a loft. He said the views through the large windows and from the balcony were the most appealing aspect of their $1,675-per-month rental at Ellington Lofts in Midtown.
"I've always wanted to live in a loft, because I'm a photographer. … I'm a country boy at heart, but obviously I can't have a cabin in the middle of Detroit," he said.
Sabra Sanzotta, owner and broker of The Loft Warehouse in Detroit, as well as a loft-dweller, reiterated that lofts have particular appeal to artists.
"Living in voluminous space promotes a sense of creativity, and freedom," she wrote in an email to The Huffington Post. "Free-flowing spaces without the constraint of four walls around each room allows one to change their floor plan often just by moving functional and furniture groupings."
Sanzotta pointed out the adaptability of lofts lend themselves to become enticing workspaces for artists or entrepreneurs.
"You have room to do projects inside the home, you can skateboard from room-to-room, your toddler can ride her trike, breathing is easier and life is less stressful when you live with a degree of pared-down simplicity and more volume."

As interest in the greater downtown area increases, both Sanzotta and Black said they've seen rates increase in the last several years.
The average rental rate for The Loft Warehouse's 85 in-house (mostly loft) properties under management contract increased from $1.10- to $1.20-per-square-foot in the past 12 months, Sanzotta said. In some buildings, rents have shot up by thousands in a year's time, according to the Detroit News.
The increases speak to more interest in a narrow strip at the center of the city. While the city can only benefit from more affluent residents (ones who pay their taxes, anyway) others have pointed to detrimental consequences of gentrification for neighborhoods' existing residents, particularly after occupants of a low-income apartment building in Cass Corridor were nearly kicked out after it changed owners.
But good or bad, there aren't necessarily openings for interested renters, a challenge that's not surprising with occupancy rates cited as near 90 percent in downtown and midtown. As Black said, demand has outpaced openings.
"We need more inventory," Black said. "We're getting to the point where developers need to start building."
It's in part because developers, according the the Detroit News, still think rents are too low to make new projects sound investments.
"We're probably a year since the market started really heating up," Black added. "As prices inch up a little bit more, I think we'll start to see investors getting into the industry again."
Despite climbing rates, lofts can be one of the best ways to live in an urban center.
"Loft living is often the only housing that gets you into the heart of the city, especially when there is a dense built environment full of obsolete buildings and no vacant land to build new housing," said Sanzotta. "There are still great deals to be had for lease and sale, in terms of lofts available now in Detroit."