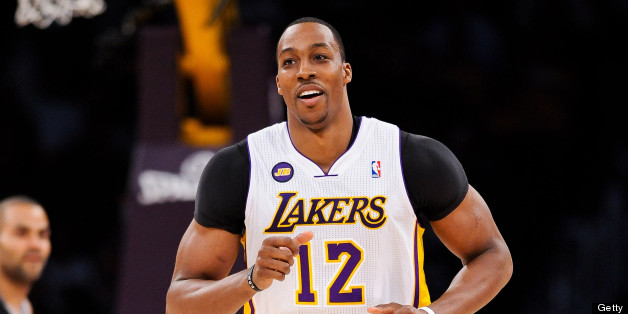 By Brian Josephs, Complex Sports
In case you haven't heard by now, the Rockets want Dwight Howard really, really badly. Maybe even more than the Lakers, who put up billboards that read "STAY" and painted Howard's jersey on the side of the Beverly Hills Hotel. And by "painted" we mean photoshopping his jersey onto the building and tweeting the image. That's just lazy.
Dirk Nowitzki may've called to invite Howard to the Mavericks, but Houston pulled out its A-Team of recruiting:
Current Rockets head coach and three-time NBA Champion Kevin McHale
Rockets offensive threat James Harden and his teammate Chandler Parsons
The legendary Hakeem "The Dream" Olajuwon
...And general manager Daryl Morey with owner Les Alexander
OK, so they won't do anything particularly epic, but they will meet up with Howard in Los Angeles in hopes of convincing him to play in Houston. Meanwhile, ESPN's Chris Broussard reported that Howard is also planning to meet up with Dallas and Atlanta, and he likely will not re-sign with Los Angeles. At least the organization didn't waste money on extra paint, right?
RELATED: The Lakers Put Up Billboards to Try to Convince Dwight Howard to Re-Sign With Them
RELATED: Dirk Nowitzki Called Dwight Howard This Week and Asked Him to Join the Mavericks Next Season

[via ESPN]
BEFORE YOU GO
PHOTO GALLERY
2013 NBA Playoff Highlights