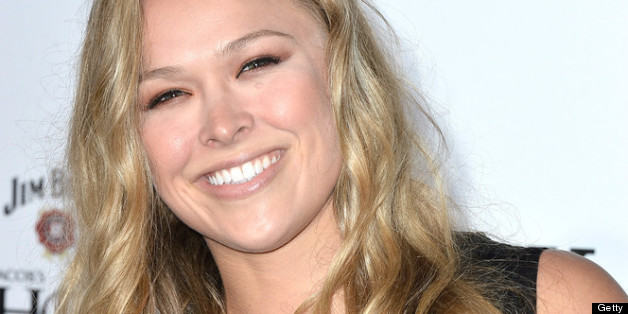 Ultimate Fighting Championship star Ronda Rousey says she's happy that filming of "The Ultimate Fighter" season 18 has wrapped, admitting that her experience on the reality show took a toll on her emotionally.
"It's a lot more work than I thought it would be, and it's a lot more emotionally taxing than I thought it would be," Rousey, one of two coaches on the show's upcoming season, told MMA Weekly. "You care a lot about these kids… You're just so emotionally invested in every person that it really takes a lot out of you."
The UFC women's bantamweight champion added, however, that the competitors on the show really "impressed" her with their talent. "Really, it has exceeded my expectations," she said.
(Read MMA Weekly's full story on Rousey here.)
Creators of the reality show have said previously that Rousey's rivalry with Miesha Tate, the season's other coach, had been the source of great tension on set.
"It's going exactly the way you'd expect it to be going, bad," UFC president Dana White said of the show's filming earlier this month, according to MMA news site Bloody Elbow. "Miesha and Ronda hate each other. It's like literally crazy drama every day."
According to Yahoo! Sports, Tate had been a last-minute choice for the show's 18th season after Cat Zingano, who had initially been cast as Rousey's opposing coach, was forced out due to a torn ACL. Rousey was reportedly not told about Zingano's injury and only learned of the news when Tate appeared on set.
Though initially stunned, Rousey, who won a historic bronze medal in judo at the 2008 Olympics before entering mixed martial arts, said in May that she was happy that she'd be facing her nemesis on the show.
"Everyone said an Ultimate Fighter between me and Miesha would be the best," she told Yahoo! Sports. "We have a personal history with each other and this is a personal show. For some reason, me and Miesha are intertwined in fate like Ali and Frazier or something like that."
Season 18 of "The Ultimate Fighter" is scheduled to debut in September on Fox Sports 1.
BEFORE YOU GO
PHOTO GALLERY
PHOTOS: Ronda Rousey