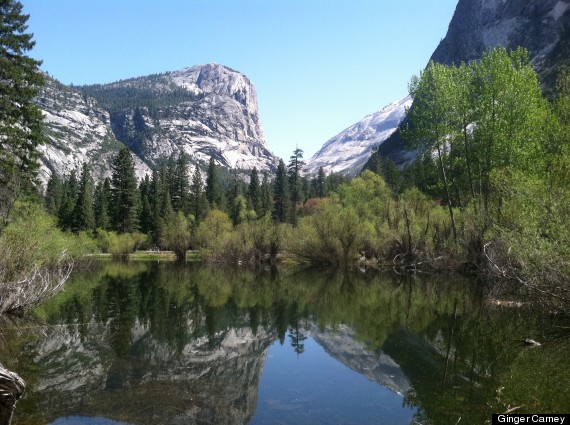 This week's Moment of Travel Zen comes to us from Ginger Carney, a soon-to-be travel blogger, of Mirror Lake in Yosemite National Park.
"The serenity and quiet was only momentary as I sat out on a promontory 20 feet off the shore at Mirror Lake. I was immensely grateful to be able to walk on my own two feet and carefully maneuver myself out onto this spot for quiet reflection. I took a few moments, sat there contemplating the turns my life had taken in the previous 6 months. Recovering from a broken leg and ankle, confined to a bed, wheelchair or on crutches for 3 months, then 3 more months of physical therapy to learn how to balance again was painstaking and painful. I felt a quiet triumph settle over me, having walked the mile from the accessible parking near the bathroom on a trail which was somewhat uneven at times. Many trails in Yosemite are paved, but this wide, popular trail presented challenges to my psyche and my ability to slowly plod on over rough conditions, with a press of other people quickly passing me. All the difficulty I had to overcome melted away upon reaching the end and seeing the breath taking magnificence of the back side of Half Dome looming over this still lake. Victory!"
Where have you traveled for a moment of zen? Email travel@huffingtonpost.com with your travel zen or submit below.
PHOTO GALLERY
Look: America, The Beautiful
And to see our past featured Moments of Travel Zen...
PHOTO GALLERY
Look: Beaches