 Bay Area Rapid Transit (BART) workers went on strike early Monday morning, leaving the San Francisco Bay Area's 400,000 daily riders stranded during the morning commute.
And judging from the outpouring on social media, about 400,000 of them were very, very frustrated.
"I rented a ZipCar but then my manager called and said not to go into the office--not worth it," wrote Debbie Betancourt, who lives in Pleasanton and works in San Francisco, on The Huffington Post's Facebook page. "I get paid by the hour so no income for me today."
Judging from the photo NBC Bay Area tweeted of the traffic entering San Francisco on the Bay Bridge, Betancourt's manager may have been right: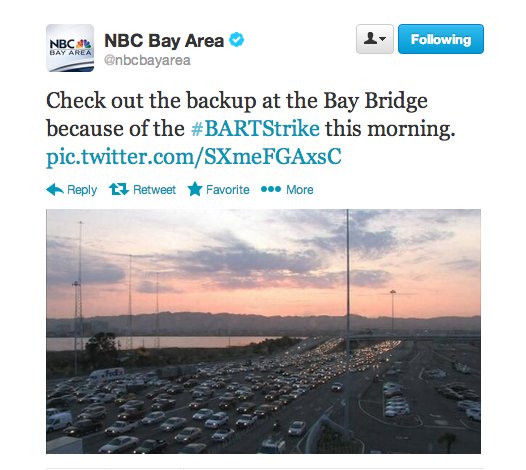 Some residents were fortunate enough to work remotely.
"I just worked from home," said San Francisco resident Cory Shaw, whose office is in Oakland. "I haven't even left my bed yet."
Contract negotiations between BART and the unions have been tense to say the least. BART is hoping workers will contribute more to employee pension and healthcare plans (workers currently pay $92 per month for healthcare, regardless of plan or number of people covered).
Employees, on the other hand, are demanding safer working environments and increased wages.
However, after news outlets reported the current average salaries ($71,000), overtime pay ($11,000) and retirement benefits of BART employees, many riders began to turn on the transit agency: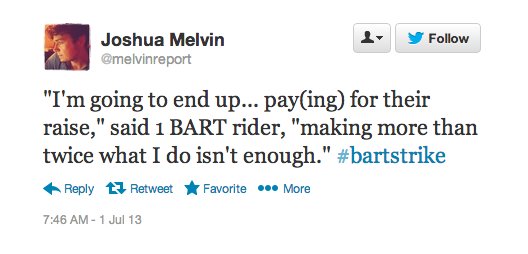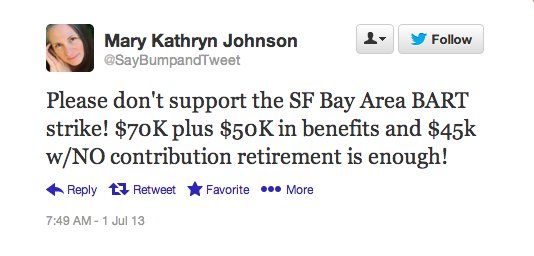 For many in the Bay Area, BART serves as the primary means of transportation, especially into San Francisco from the surrounding suburbs.
Some savvy tech companies took advantage of the situation. Ridesharing app Avego launched a Twitter account named @BARTstrike and helped commuters navigate carpools using the app.
Check out reactions to the BART strike in the Twitter slideshow below. Then, take a look at photos of this morning's unbelievable traffic. See you all again at 5 p.m.!
BEFORE YOU GO
PHOTO GALLERY
BART Strike
PHOTO GALLERY
BART Strike