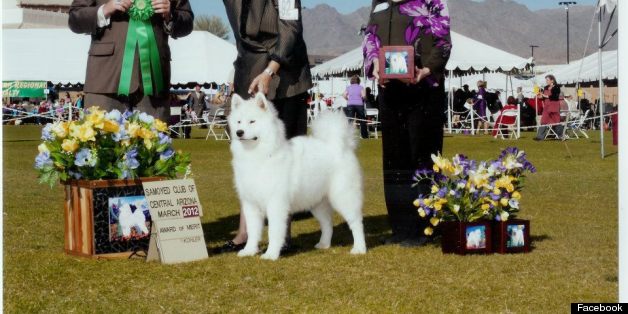 When a New York couple hired a California dog sitter to care for their prized show dog in February, their Samoyed was a stud worth $250,000.
Now, Cecile and Victor Stanton claim the sitter turned out to be a dognapper who castrated their pet and won't return him, according to ABC News.
So the Stantons slapped Beverly Jeffries of Pasadena with a $350,000 lawsuit last week in an attempt to get back their dog, Courthouse News reports.
The pooch at the center of the dogfight is officially named Polar Mist You Gotta Believe, but the Stantons call him Justin for short.
"The plaintiffs, especially Cecile Stanton, have developed a strong personal relationship with Justin," the complaint reads. "The plaintiffs have been severely distressed, losing sleep, being frequently upset during the daytime, and generally worried that the irrational behavior of the defendants will cause further harm to Justin and cause further separation between Justin and the plaintiffs who dearly want him returned."
Their suit alleges that Jeffries had Justin neutered in April without their permission. Because he can't produce award-winning pups like him anymore, the Stantons contend that Justin's value fell by $100,000.
In May, Jeffries allegedly refused to return Justin. Subsequent requests to hand him over were also denied, prompting the Stantons to file the papers in Los Angeles County Superior Court on June 26. (Jeffries has not commented about the case.)
In 2006, the couple bought Justin, who's registerred with the American Kennel Club as a grand champion, the Daily Mail reports. Between 2007 and 2010, Justin took home "Best in Breed" 10 times at shows.
BEFORE YOU GO
PHOTO GALLERY
Animals In The News