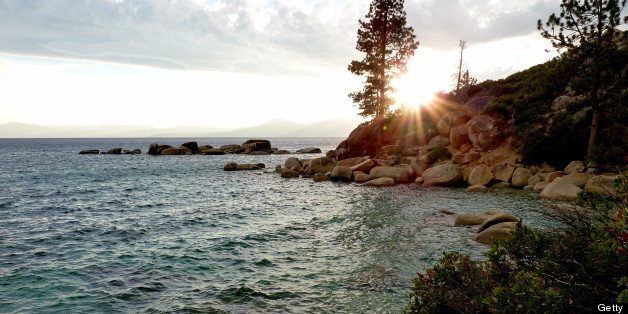 Just under $20 million will buy you a piece of Lake Tahoe paradise with history to spare. A century-old log home once owned by reclusive billionaire Howard Hughes is on the market in Crystal Bay, Nev., for $19.5 million. The Summertide estate was built by a silver-mining mogul and later owned by an English earl.
Too rustic? How about a $43 million, four-home compound in Incline Village, Nev., a short walk down the beach from where Oracle Corp. billionaire Larry Ellison is building a mega-estate. The lakefront in Nevada, a state with no personal income tax, has become a favorite retreat for California's high-tech titans.
"Lake Tahoe, where the billionaires are pushing out the millionaires," quipped Chase International real estate agent Karen Bruno, who has the listing for the former Hughes estate, now owned by a wealthy retired couple. She said a developer might tear down the historic cabin and build a trophy home for a modern-day magnate.
The properties and 21 others were on Chase International's Lake Tahoe Lakefront and Luxury Estates Tour last week. The annual invitation-only event showcases the lake's richest real estate.
High-end sales at Tahoe staggered during the recession but have started to recover in the past half-year.
Real estate agents said the trend has been fueled by wealthy Californians decamping for Nevada in the wake of Proposition 30, a ballot measure that California voters passed in November. It raised the state income tax rate on those who make $1 million or more annually to 13.3 percent -- a nearly 30 percent increase.
That pushed some -- especially those who can work from home or whose children are no longer in school -- to make their primary residence in Nevada, agents said. Sales of homes in the $2 million-to- $4 million range around Incline Village have been especially brisk, they said.
"If they can move here, why not?" Bruno said.
At the highest end of the market, in the rarefied world of properties worth tens of millions of dollars, Silicon Valley billionaires have been driving sales. They've been buying properties on the Nevada lakefront, including the opulent homes along Lakeshore Boulevard in Incline Village.
Two of those homes sold recently: one in December for $25.5 million and another in June for $15.5 million. A third Lakeshore Boulevard home is in escrow for nearly $20 million.
"Millionaires' row has definitely turned into billionaires' row," said Chase's Kerry Donovan, one of the area's top agents.
In December, Donovan sold the Osprey Estate in Incline Village for $25.5 million. It was the highest price paid at Lake Tahoe since 2008. Osprey, an 8-acre retreat with private beach and pier, was built by the late inventor Jerome Lemelson, whose hundreds of patents included essential components of the VCR and Sony Walkman.
The buyer was David Duffield, a high-tech billionaire who founded software makers PeopleSoft and Workday. Duffield has been among the lake's serial buyers, along with Ellison, in recent years.
Donovan now has the listing for Sierra Star, a four-home, 4.3-acre gated compound with 330 feet of lake frontage and a 30-car garage. The asking price recently dropped again from nearly $50 million to just under $43 million.
If it fetches anywhere near that price, it would be one of the most expensive properties ever sold at Lake Tahoe, Donovan said.
The estate was assembled by Tom Gonzales, whose software company, Commerce One, became a symbol of the dot-com boom and bust. Sierra Star is now owned by investors, said Donovan's colleague Megan Warren. It's available in its entirety or as individual parcels.
Just down the street on Pine Cone Circle is a comparatively affordable property called Villa Lake Tahoe, another Donovan listing priced at about $8.8 million. Its master bedroom has a large bay window with unobstructed lake views. The house's furniture is also for sale, agents said.
Six miles west, on the other side of Crystal Bay, is the former Howard Hughes estate, perched high above the lake near the Cal Neva Resort, Spa & Casino. The historic resort, which straddles the state line of California and Nevada, was partly owned in the 1960s by Frank Sinatra and frequented by his Rat Pack cronies. Marilyn Monroe, the Kennedys, and Chicago mob boss Sam Giancana reputedly were among the guests.
It's questionable whether Hughes ever actually stayed at his log estate next door, locals said. If not, he was missing out.
Nearly 300 wooden steps zigzag down the hillside, leading to a guest cottage and a small cove with a private dock. The cove, ringed by boulders, forms a natural swimming pool with a sandy bottom.
Ann Conyard toured the home Wednesday and remembered staying there as a teen, when one of her friends was related to past owner Christian Arthur Wellesley, the 4th Earl Cowley and a descendent of the Duke of Wellington.
"We would swim out to the rocks," Conyard said. "Frank Sinatra's house was nearby. We spent hours on the rocks spying, but we never saw him."
Chase International says its tour is aimed at serious buyers and brokers, but many who attended the open houses were curious neighbors or local residents of more modest means.
Lee Vestal, a retired utility worker from Meyers, a middle-class community near South Lake Tahoe, said he and his wife were checking out how the rich relax.
"We came to see all the places you normally can't get into," he said.
A member of the Lake Tahoe Historical Society, Vestal said the home Hughes owned exuded "the old Tahoe you can't get anymore." He lamented the fact that such homes are disappearing, replaced by the mammoth gated estates of today's ultrawealthy.
Looking down at the lake's sparkling blue water, Vestal said: "If I had the cash, this is what I'd buy." ___
BEFORE YOU GO