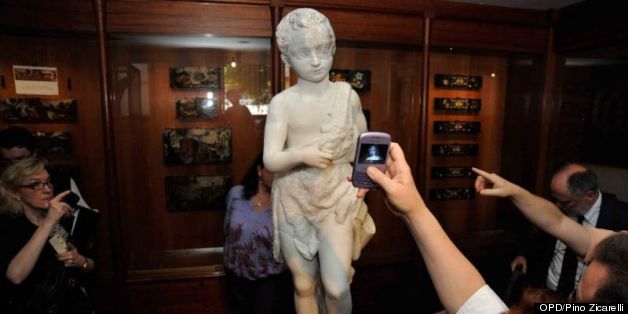 Art historians and restorers gathered excitedly in Spain last week to catch a glimpse of "San Giovannino," a sculpture which, according to the New York Times, could be a bona fide Michelangelo.
The work in question, depicting a young St. John the Baptist, has been the subject of art historical debate since 1930, when Spanish historian Manuel Gómez Moreno proposed the statue could be a legendary yet unidentified piece by the Italian artist. Biographers contend the marble master carved a "San Giovanno" for Lorenzo di Pierfrancesco de Medici in 1496, though the work was never found.
Fast forward to 1994 in Úbeda, "the Renaissance capital of Andalusia," where a mysterious statue arrived at the Holy Chapel of the Savior in fragments. The work, ravaged by the Spanish Civil War, was revived through a complex, 20-year restoration process. Similarities to other Michelangelo works, such as his beloved Bacchus, inspired art historians to investigate the possibility that this reconstructed figure was in fact the legendary "San Giovanno." Historians have tracked a potential path for the work, leading it from 15th century Florence to the Spanish Civil War.
The digital archive of the Palazzo Medici Riccardi succinctly summarizes the art historical puzzle as follows:
There are no accurate descriptions or iconographic illustrations of the Young Saint John sculpted by Michelangelo, which has unfortunately been lost (or at any rate not yet identified). The pose of the young Baptist could have analogies with that of the same figure in the Manchester Madonna, a painting now generally attributed to Michelangelo, around 1497. The same formal solution was then reproposed by the artist in the Bruges Madonna, sculpted before 1506.
Many art historians from Italy and abroad support Moreno's historical opinion, including the Duke of Segorbe, Don Ignacio de Medina y Fernández de Córdoba, who recently told the New York Times: "We have a Michelangelo." (The Duke owns the sculpture.)
However, it seems that a number of academics and critics remain skeptical, despite the Duke's declaration. Michelangelo scholar Frank Zöllner, for example, remains doubtful, claiming the eyes and mouth are too flat and the nails "less strong" than Michelangelo's typical style; additionally, the artist never signed his name on the work.
The 15th century mystery remains as puzzling as ever today. If the sculpture were indeed a Michelangelo, why wouldn't he sign it? And if this is not the legendary "San Giovanno" piece, then where is it?
For those wishing to examine the work for themselves, the sculpture will be on display in the Holy Chapel of the Savior in Úbeda, Spain, after it returns from Florence.

BEFORE YOU GO
PHOTO GALLERY
10 Things You Didn't Know About Michelangelo