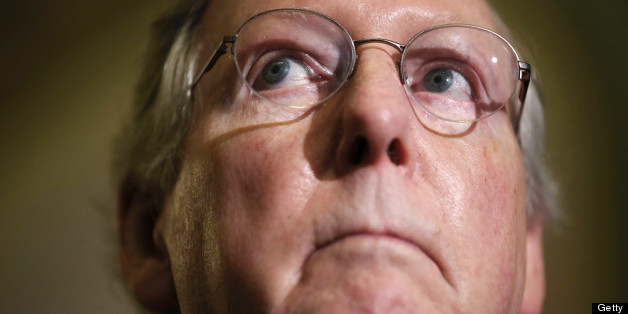 Public polling has been sparse in Kentucky, where Mitch McConnell gained a Democratic challenger. A Republican pollster says microtargeting surveys need not cross an ethical line. And it's a good day to debate gerrymandering. This is the HuffPost Pollster update for Monday, July 1, 2013.
ALISON LUNDERGAN GRIMES WILL CHALLENGE MITCH MCCONNELL FOR SENATE Kentucky Secretary of State Alison Lundergan Grimes (D) announced Monday that she's running for the U.S. Senate. The few polls conducted so far on the race give McConnell a modest lead. Democratic pollster Public Policy Polling, which has surveyed the race three times with their automated, recorded voice methodology, found McConnell leading Grimes by 7 points in December, and 4 points in April. Its third poll, taken in May on behalf of the Democratic Senate Majority PAC, found the race tied. Another automated survey conducted in June by the Republican Wenzel Strategies found McConnell ahead by 7 points. [Pollster table]
-Cook Political Report: Shifted its rating of the race, in light of the Grimes announcement, from "likely" to "lean" Republican. Cook analyst Jennifer Duffy says "Democrats will do everything they can to make it a 'Toss Up.'" [@CookPolitical
-Larry Sabato's Crystal Ball: "Holds firm on Likely R Rating." Sabato says "McConnell has enormous advantages in strongly anti-Obama KY," though expects "polls get close at some point in fall '14." [@LarrySabato on rating, polls]
-FiveThirtyEight's Micah Cohen: "Re-Election Is Likely for McConnell, but Not Guaranteed." Cohen says "in many ways, Ms. Grimes faces a challenge similar to that faced earlier this year by Elizabeth Colbert Busch...to defeat a flawed Republican opponent on solidly Republican terrain." [NYT]
-Rothenberg Political Report - Deputy Editor Nathan Gonzales previewed a Grimes candidacy in April: "[I]f Grimes runs, she will likely need significant support from outside Democratic groups as well as a few breaks in order to buck the Democratic losing streak in federal races in the state." [Rothenberg]
RECORD SUPPORT FOR GAY MARRIAGE Susan Page: "A record majority of Americans approve of same-sex marriage in the wake of two landmark Supreme Court decisions, a USA TODAY poll finds....By an unprecedented 55%-40%, Americans say marriages between same-sex couples should be recognized by law as valid, with the same rights of traditional marriage. That's the highest level of support since Gallup began asking the question in 1996. Then, fewer than half that number, 27%, backed the idea. Last year was the first time a majority of Americans had backed gay marriage. The only major demographic groups in which a majority oppose same-sex marriage are Republicans (68%) and seniors 65 and older (51%). Even in the South, which continues to be the only region that doesn't show majority support for gay marriage, opposition has slipped below 50%." [USA Today]
POLITICO ASKS IF THE GOP WILL 'PAY A STEEP PRICE' FOR GERRYMANDERING - Alex Isenstadt: "No one disputes Republicans used the once-a-decade redistricting process to lock in their House majority — almost certainly through 2014 and possibly until the next round of line-drawing in 2020. But the party could pay a steep price for that dominance. Some top GOP strategists and candidates warn that the ruby red districts the party drew itself into are pushing House Republicans further to the right — narrowing the party's appeal at a time when some GOP leaders say its future rests on the opposite happening. If you're looking for a root cause of the recurring drama within the House Republican Conference — from the surprise meltdown on the farm bill to the looming showdown over immigration reform — the increasingly conservative makeup of those districts is a good place to start." [Politico]
Sean Trende: 'Gerrymandering Isn't the Real Cause of Polarization': "These types of arguments are nothing new. Neither are the fairly compelling arguments against them.
First, the underlying assumption about the cause of district polarization is wrong. As I've suggested before, the natural geographic concentration of the Democratic vote is more responsible for polarized districts than any efforts by Republicans...Contrary to conventional wisdom, moderate districts do not clearly beget moderate candidates. For some good, concrete examples, think of the Senate. The states that are between two points more Republican and two points more Democratic than the country as a whole currently send senators like Tammy Baldwin, Sherrod Brown, Al Franken, Tom Harkin, Ron Johnson, Amy Klobuchar, Harry Reid, Pat Toomey and Mark Udall to the Senate....Now I'm not going to claim that there is no relationship between partisan districts and the ideology of incumbents. The relationship between district security and ideology in the House is statistically significant. But it is relatively weak, and as the Senate and "swing district" examples demonstrate, isn't the primary force driving polarization." [RCP]
Michael McDonald: Geography not a barrier to fair districts - "Upon some reflection by anyone who has drawn a redistricting plan -- and I've been a redistricting consultant in 14 states -- geography is not really constraining on congressional redistricting. Congressional districts are very large. In moderate- to large-sized states they consist of over 700,000 persons. It is easy in all but the most densely-urban areas to combine urban, suburban, and rural voters within a compact district. And again, the plans implemented in the states with the largest urban centers are not responsible for the current partisan imbalance among the congressional plans." [HuffPost]
NO EARLY FRONTRUNNERS IN HAWAII 2014 SENATE RACE - Chad Blair: "U.S. Sen. Brian Schatz has a narrow lead over U.S. Rep. Colleen Hanabusa in the Democratic Senate primary, 36 percent to 33 percent [among registered voters], according to the latest Civil Beat Poll. But with a 3.3 percent margin of error and nearly one-fourth of voters surveyed saying they are undecided, neither candidate has a clear advantage in a race that will be decided just over a year from now, on Aug. 9, 2014." [Honolulu Civil Beat]
MORE ON CAMPAIGN MICROTARGETING AND CONFIDENTIALITY - Friday's update included an excerpt from a column by Republican pollster David Hill about a potential "ethical hole" in the growing convergence of polling and "big data" modeling in political campaigns. Hill's concern is that these techniques compromise the commitment to respondent confidentiality emphasized by organizations such as the American Association for Public Opinion Research (AAPOR). [The Hill]
Alex Lundry responds - On that issue, HuffPollster received an email from Republican pollster and micro-targeting expert Alex Lundry: "Hill needn't be concerned – pollsters who cooperate with analytics teams can remain in AAPOR's good graces. No survey respondent is ever contacted directly as a result of how they answer our questionnaire. And survey data isn't made available in the voter file for campaign surrogates to use for any sort of follow-up. Rather, voters that LOOK like survey respondents we are interested in contacting get contacted. Contacts are a function of predictive models built from survey data. This really isn't all that different from pollsters that use gender or age cross tabs to target voters – ours is just a more complex multidimensional model than the one or two dimensional ones used by traditional pollsters."
Have something to add to the Pollster Update? Send tips/quotes/stories/charts/new data/juicy miscellanea to Mark Blumenthal (mark@huffingtonpost.com) or Ariel Edwards-Levy (Ariel.Edwards-Levy@huffingtonpost.com).
MONDAY'S 'OUTLIERS' - Links to more news at the intersection of polling, politics and political data:
-Marco Rubio leads among Latinos for the GOP primary, but loses GE matchups against Clinton, Biden. [Latino Decisions]
-The contrast in how the public perceives Barack Obama and George W. Bush in "just one word," illustrated. [Pew Research]
-71 percent of Washington area residents give a positive rating to Metrorail. [WaPost]
-John Sides summarizes the political science on the Voting Rights Act and voter turnout data. [WaPost]
-Marjorie Connelly reviews the conflicting polling data in the New York City mayoral race. [NYT]
-Harry Enten ponders whether Southern states will legalize same sex marriage. [Guardian]
-Kevin Gray explains why consumer surveys still matter in an age of "big data." [GreenBook, via @JoshdelaRosa]
-Google Consumer surveys is looking for clients to test "long form" surveys (up to 10 questions). [@JonSadow]
-Your television is spying on you, and "the future of political advertising depends on it." [National Journal]
-How data scientists are redefining advertising. [Finanicial Times]
-Goldman Sachs invests $100 million in a 13-year-old "big data" firm. [Gigaom]
POLLSTER UPDATE VIA EMAIL! - You can receive this daily update every weekday via email! Just enter your email address in the box on the upper right corner of this page, and click "sign up." That's all there is to it (and you can unsubscribe anytime).