Rupert Murdoch's media empire began officially trading as two separate companies on Monday, and it marked the milestone with two-page ads in the New York Times and the Wall Street Journal.
The ad proclaimed "Day 1" in huge type across pages 16 and 17 in the Times. The right-hand page was emblazoned with the logo for the new News Corp — which is based on the handwriting of Murdoch and his father — and listed the publisher's brands. The right-hand page featured the new 21st Century Fox logo along with the entertainment company's assets.
The old News Corp. had been in the process of splitting its print entities and its broadcast and entertainment operations for the past year. News Corp. shareholders approved the split in a vote in June.
Murdoch serves as the chairman and chief executive of both companies. Shareholders in the old company received four shares of 21st Century Fox and one of the new News Corp for every four shares they owned. Both companies were up on Monday morning.
Below, see the ad released by the companies on Monday:
PHOTO (via The Wrap):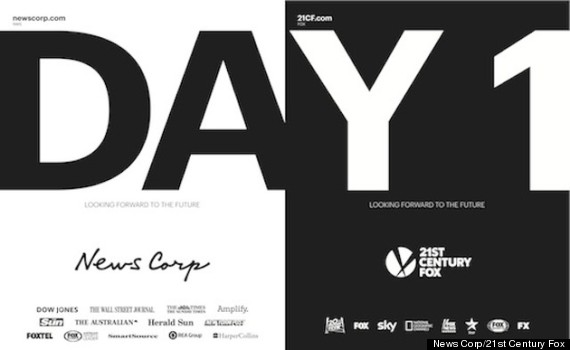 BEFORE YOU GO
PHOTO GALLERY
The Murdochs