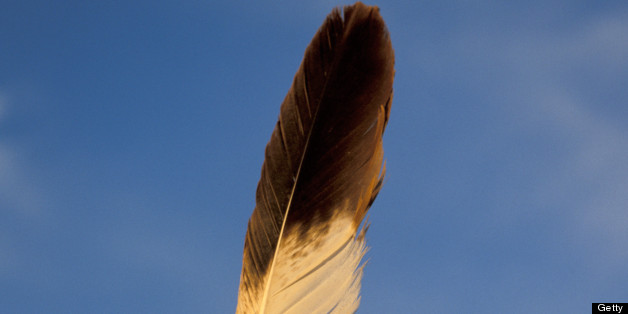 A Native American student at an public Alabama high school says he was forced to remove an eagle feather from his graduation cap in late May, despite the fact his right to wear the accessory is protected under the American Indian Religious Freedom Act.
Sky Walkingstick of the Eastern Band of Cherokee told The Huffington Post that he wanted to wear an eagle feather at his J.B. Pennington High School graduation because it "is part of my religious beliefs, heritage and it stands for all my achievements."
However, he says when the school's assistant principal and government teacher saw him with the feather, they told him he must take it out in order to walk during the ceremony.
"They said that if I tried to wear it there would be consequences, so I thought they would take my diploma away and I wouldn't graduate," Walkingstick said.
While he complied with their wishes out of fear for repercussions, he says the incident shook him emotionally. Now, he is trying to get his story out so that a similar situation does not occur again.
Walkingstick and his mother, Hollye, told Indian Country Today Media Network that they were surprised the two educators were not aware of the American Religious Freedom Act, which "established a policy of protecting and preserving the inherent right of individual Native Americans to believe, express, and exercise their traditional religions," according to the U.S. Office of Health, Safety and Security.
Further, Walkingstick's mother told the outlet that she believes her son was singled out because of his Native American heritage.
"I asked Mr. Bryson [the assistant principal] 'can you tell me why he can't wear it?' He said, 'the main reason is that all of the kids are required to look the same," said Hollye Walkingstick to the outlet. "I told him there was no dress code the kids had to sign and no one was told they had to wear certain things. I told him you would not tell a Christian person to remove their cross or a Jewish person to remove their Star of David."
A representative for the school has not responded to requests for comment at this time.
The incident occurred around the same time that Chelsey Ramer, another Native American student from Alabama, had her diploma withheld after wearing an eagle feather in her high school graduation cap. The school recently decided that she would not have to pay a $1,000 fine and gave her the diploma.
BEFORE YOU GO
PHOTO GALLERY
Teacher Controversies