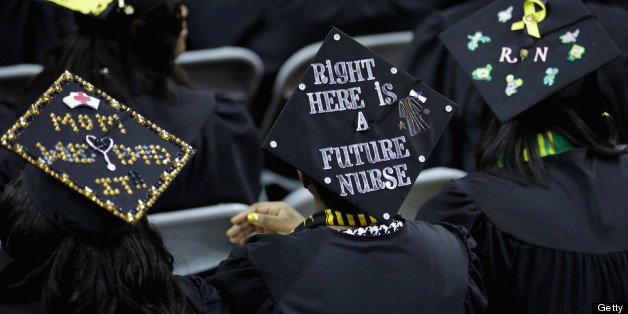 Interest rates on some federally-backed college loans doubled to 6.8 percent on Monday, thanks to some classic political inertia in Congress. Now, without decisive action before August's congressional recess, millions of students will arrive on campus in the fall with an even scarier debt burden confronting them.
Maybe you're feeling a little confused. If so, we've got you covered. Here's everything you need to know about Monday's student loan rate spike:
WHO IS AFFECTED?
Students who take out subsidized Stafford loans for the 2013-2014 school year and onward. This represents more than 7 million undergraduates from lower- and middle-class families, or a quarter of all federal borrowers, according to the Associated Press.
HOW MUCH MORE WILL STUDENTS HAVE TO PAY?
Each affected student will pay $2,600 more on average in loans over the next decade.
WILL THE RATES ON MY EXISTING STAFFORD LOANS CHANGE?
Luckily, no. The 6.8 percent rate increase will only apply to loans taken out after Monday. Nor will other types of federal student loans change. While subsidized Stafford loans -- which are geared towards students in need of financial aid -- do not represent the largest volume of student debt, they will still account for $29.3 billion of outstanding student loan debt for the 2014 fiscal year. Unsubsidized Stafford loans, available to students without financial need, represent $62.7 billion of outstanding student loan debt per year.
WHY SHOULD I CARE IF I I'M NOT TAKING OUT A STAFFORD LOAN?
Student loan debt is chewing up an increasingly large amount of recent graduates' incomes, meaning they have less money left to spend to fuel the economy in other ways -- like by buying houses or cars -- according to a recent report from the Federal Reserve Bank of New York. Americans currently have a whopping $1.1 trillion in outstanding student loan debt, and by boosting rates on some government-backed loans, Congress will only make this problem worse.
HOW DID WE GET HERE?
Essentially, Congressional inaction. Last year, Congress opted to delay a vote on the issue for a year, leaving loans at their 3.4 rate for the time being. And this year, Republican and Democratic leaders failed to reach an agreement in time to prevent student loan rates from automatically doubling.
WHO PROFITS FROM STAFFORD LOANS?
The U.S. government will record a $51 billion profit this fiscal year from the federal student loan program, which includes Stafford loans and others, according to the nonpartisan Congressional Budget Office. The government has made nearly $120 billion in profit from student borrowers and their families over the past five fiscal years.
SO WHAT COMES NEXT?
Many congressional Democrats are seeking to buy themselves more time by extending the 3.4 percent rates for another year. The Senate is expected to vote on this extension on July 10th, but the vote is likely to encounter a Republican-led filibuster, according to the Washington Post. If no decisive action is taken before August's congressional recess, the impacts on millions students will continue to mount.
BEFORE YOU GO
PHOTO GALLERY
Comments On Private Student Loans