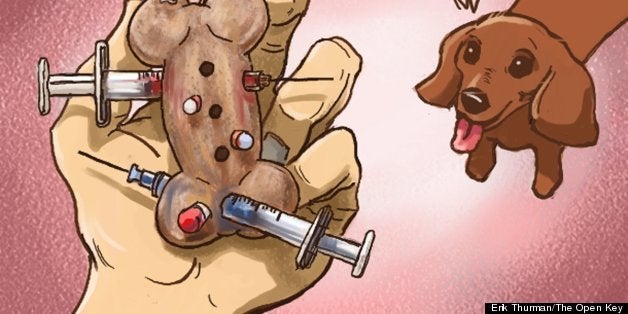 As reporter/producers for DNAinfo Chicago, Kyla Gardner, 24 and Darryl Holliday 27, spend their days covering stories that come across the Chicago police scanner. A few months ago, the wealth of truly bizarre transmissions inspired the pair to create a Tumblr of equally bizarre — and frequently hilarious — visual interpretations of the weirder transmissions around the Windy City: The Open Key.
In police jargon, an "open key" is when the 'talk' button on an officer's radio is depressed so no one else can get over the airwaves. According to Gardner, it happens a lot in Chicago, with dispatchers constantly reminding officers to watch their open key. The reminders, Gardner says, prompted her and Holliday to realize the perfect name for their website was right in front of them.
"The scanner was crackling right in front of us, and there's always open keys, so then we said, well, it has to be 'The Open Key,'" Gardner told HuffPost Chicago.
PHOTO GALLERY
The Chicago Scanner, Illustrated
Holliday calls The Open Key a "short cousin of comics journalism" and says the pair splits up the duties: Gardner normally tunes in and provides choice quotes while Holliday connects them to potential artists in the art and comics community.
The fellow journalists started the blog in early May, originally an offshoot of the Illustrated Press, a Kickstarter-backed book to which Holliday contributed.
Gardner says they encourage artists of all skill levels to contribute "even if they think they can't draw."
"Everyone can throw together a funny doodle. I think we like that about [the Open Key]: how collaborative it is, and not just with official comics artists — but we have those, too."
Gardner said the post cards were a hit and Open Key was quickly embraced by the comics community. "[People] were really excited about it, and they loved reading the quotes and laughing. I don't think we expected it to be that successful."
"It was free, so, it was really the best trap ever," Holliday said.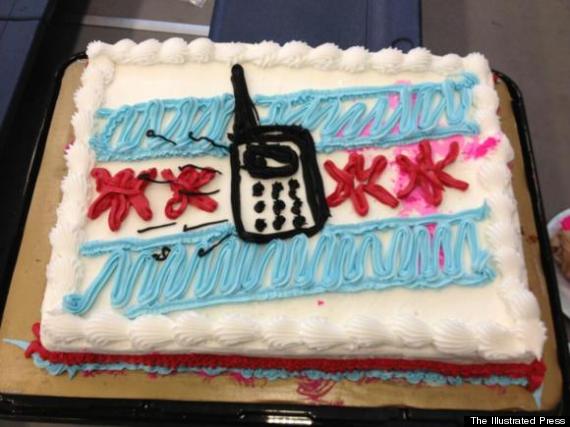 The Open Key's CAKE cake (via The Illustrated Press)
"I think we avoid the dark side of the scanner for the most part. I mean, none of the quotes are the 'armed black male' or the 'guy beating his wife' moments. That being said, a few of them are gross, yes."
"It seems like there's a lot of people running naked around the city, for sure," Gardner adds. "We've got a few submissions from CAKE along that theme ... but cartoonists are very creative in keeping them ... censored."
As for whether the Open Key has taught the two journalists anything about Chicago, they say it's rather confirmed what they already knew: "There's definitely some weird stuff out there."
"In a city this large, I guess you'd expect that," Gardner says. "Really, we don't even know what's going on with each situation, because it's just what we happen to overhear on the scanner. That's why our motto is comics 'loosely based on things overheard...' I think we aim for it to be more absurdist than anything that people learn from."
As for the future, Holliday says they're hoping The Open Key can be turned into a book or a calendar.
Overall, Holliday says as a pro working in the news, the Open Key is a welcome release from the often grim stories he covers.
"I get the same feelings [of sadness] when there's a week or weekend of shootings and I'm coming off of visiting families and crime scenes. It's nice to be reminded that the city is really interesting, despite the problems. The Open Key sort of takes those two things and makes it ok to have fun with it when you can. There are plenty of times when you won't be able to. Might as well try to find something collaborative and fun in it."