 One lucky person will soon own a piece of music history, as the guitar Bob Dylan used when he went electric in 1965 is set to be sold at auction.
The bidding on the 1964 sunburst Fender Stratocaster will take place later this year, with Dylan's handwritten lyrics to the makings of songs like "Just Like a Woman" and "Temporary Like Achilles" also slated for auction, according to Rolling Stone. The guitar's current owner of 50 years, New Jersey resident Dawn Peterson, took the instrument onto an episode of PBS's "History Detectives" and was told it will likely fetch nearly $500,000. The lyrics could garner about $50,000.
The guitar in question is the one used at the Newport Folk Festival, when Dylan famously amplified his sound. Having played the festival with true folk trappings in 1963 and 1964, Dylan's fans jeered the singer the following year for steering his music more toward true rock 'n' roll. The mixed reactions didn't gain much mainstream traction, however, as "Like a Rolling Stone" and "Rainy Day Women #12 & 35" quickly became Dylan's biggest hits following the festival performance.
The exact rights of the guitar's ownership were called into question last year following Peterson's appearance on "History Detectives." Dylan said he was the rightful owner, after which point Peterson reportedly settled a legal dispute that would allow her to auction the guitar.
There's no word yet as to whether Dylan will receive a share of the profits, but he will sign off on the auction.
Here's a look back at Dylan at the 1965 Newport Folk Festival: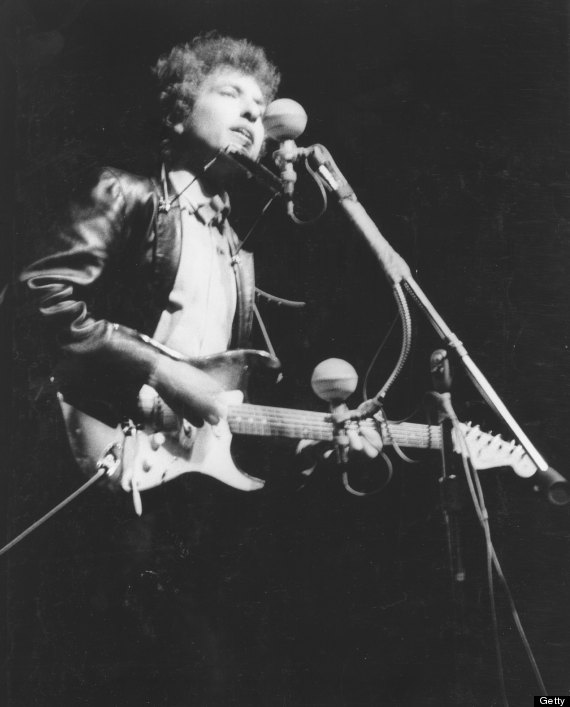 Check out the episode of "History Detectives" in which Dylan's Fender Stratocaster is on display:

BEFORE YOU GO
PHOTO GALLERY
Celebrity News & Photos