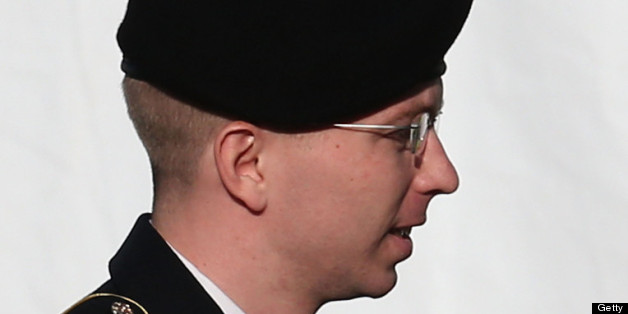 FORT MEADE, Md. -- The prosecution rested its case against Pfc. Bradley Manning on Tuesday, bringing to a close its testimony in the court martial of the Army intelligence analyst who has admitted giving WikiLeaks hundreds of thousands of sensitive government documents.
Manning has pleaded guilty to 10 of the 22 charges against him, but the government is fighting to convict him of the most serious accusations, including aiding the enemy, which carries a potential life sentence.
Under military law, Manning's defense lawyer David Coombs may now argue to have some or all of the charges dismissed for lack of evidence. Coombs told Manning supporters on June 24 that he was likely to make such a motion, typical in military law. Judge Denise Lind set a July 4 deadline for doing so.
Moments after resting his case, Army prosecutor Captain Ashden Fein unexpectedly announced the government will drop its attempt to charge Manning with leaking intelligence to an enemy whose name is classfied. Military law experts had expressed surprise at charging someone with aiding a secret enemy, and the idea had aroused some controversy.
"That evidence was not presented and the government will not be presenting it," Fein said.
During the prosecution's 3 1/2 weeks of testimony, the government presented some evidence -- almost all of it circumstantial -- that may show Manning knew his disclosures would wind up in the hands of al Qaeda and al Qaeda in the Arabian Peninsula. That knowledge is a crucial element of the aiding the enemy charge.
Also on Tuesday, Lind ruled that Daniel Lewis, a Defense Intelligence Agency counterintelligence investigator, could not testify as an expert on the value of some of the documents Manning leaked. Showing that the files Manning turned over to WikiLeaks are worth more than $1,000 is critical for proving several of the minor theft of government property charges.
Lewis was allowed to opine on the value of other documents in a closed, classified session. After offering to present as many as 24 witnesses to testify in secret against Manning, the government chose to bring only Lewis and a computer forensics expert to the stand in the closed session.
BEFORE YOU GO
PHOTO GALLERY
Guantanamo Bay Revelations From WikiLeaks