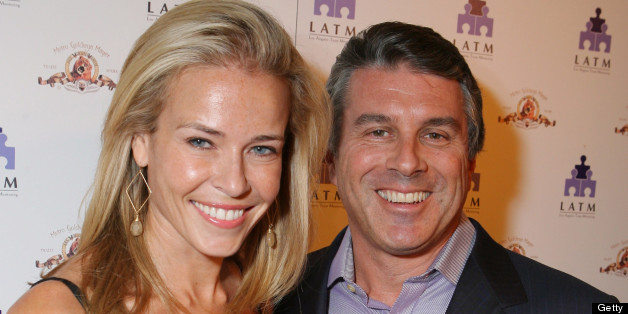 When a couple calls it quits, sometimes letting go of the home they shared together is the best way to get rid of some painful memories.
But the fact that NBC chairman Ted Harbert held on to this high-end home for three years after he split from TV host Chelsea Handler speaks volumes about the unbelievably luxurious ocean-view penthouse they once shared. Located on the top floor of Azzurra, a ritzy high-rise condo building in Marina Del Rey, Calif., the three-bedroom, 3.5-bathroom unit has over 3,300 square feet of living space and is smack dab in the middle of miles of blue sky.
Views of the marina and ocean are everywhere (including the steam shower), and you can take in the sunset from the penthouse's 400-square-foot balcony. The full-service luxury condo building also has a fitness center, two spas and a pool. And if that wasn't enough water for you, there's also a 100-gallon fish tank in the penthouse foyer.
Now that's a former love nest worth holding on to, painful memories or not.
Or, for the market-minded folks out there, perhaps there's a more practical reason that Harbert kept the home as long as he did. As real estate blog Zillow put it, "Now with some growth in the real estate market, Harbert is ready to dump the property for more than he paid for back in '08."
Handler and Harbert bought the sumptuous unit back in 2008 for $3.7 million, according to public records. Then, a few months after word of their breakup hit the news in 2010, records show that Handler sold her share of the home to Harbert for $1.147 million. Now the home is on the market for a hefty $3.95 million.
Handler is the host of E! Network's "Chelsea Lately," a late-night talk show known for its candid celebrity interviews and Handler's acerbic wit. The show debuted in 2007.
In 2012, Handler said that her breakup with Harbert was work-related -- as in, all they would do was talk about her work. This isn't surprising, considering that Harbert was CEO of Comcast Entertainment Group, which oversaw E!, notes The Hollywood Reporter. Harbert is now broadcasting chairman for NBC.
Photos courtesy of Realtor.com.
PHOTO GALLERY
Chelsea Handler's Former Love Nest