Hello, ladies and gentlemen, and welcome to This Week In Apple Rumors, our regular look at all of the week's unconfirmed gossip and questionably sourced reports radiating from Cupertino. Fresh off reveals of new operating systems for Apple laptops and smartphones earlier this month at the company's Worldwide Developers Conference, the focus in the world of Apple has shifted back to something familiar: iPhones hardware. If the latest rumors from Apple fan sites are to believed, iPhone lovers will see not one but two new models released come autumn.
1. Specs For The 'iPhone 5S' Trickle Out
Rumors have long indicated that the so-called "iPhone 5S" will look essentially identical to the iPhone 5, though photos leaked to MacRumors in June gave a first look at the possible inner workings of the device. The Apple news site noted several new features, including a higher capacity battery and a dual LED flash. Earlier this year, rumors of a 12 megapixel camera and a fingerprint scanner to replace passcodes for the "5S" circulated.
A mid-September release date would be typical for Apple, which often pairs the rollout of a new iOS with a new iPhone. On that front, Apple have indicated that iOS 7 will be available for the public "in the fall." As the International Business Times points out, iOS 6 was introduced to developers on June 11, 2012 and saw its release day on September 19 -- exactly 100 days later.
2. Taste The Rainbow
But the "iPhone 5S" might not be all.
Though Apple have shot down rumors of a second, more affordable line of iPhones as recently as January, the rumor mill has continued unabated. The latest "leak," from a Chinese site called WeiPhone, is this photo of candy-colored shell that may grace the backs of budget Apple phones.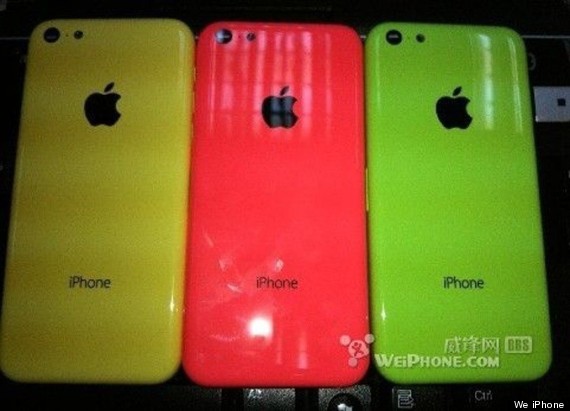 We've heard this rumor of a colorful, plastic iPhone from other sources, including the well regarded reporters at The Wall Street Journal. If those colors hurt your eyes, you're not alone. "[W]e hope you like the color palette usually associated with Starburst candies," Quartz's Christopher Mims wrote.
The rumored budget iPhone would have many of the core features of the phone with some lower-end hardware and a lower price point. Over at iLounge, Jeremy Horwitz crunches the rumors and summarizes that the budget iPhone would be a "cross between the iPhone 5, fifth-generation iPod touch, and… wait for it… the iPod classic."
As the Samsung Galaxy outpaces the iPhone in sales, the budget iPhone would be Apple's latest move to reassert its dominance. Bloomberg reported earlier this month that Apple would soon be offering an iPhone trade-in program, one which would allow U.S. iPhone owners to upgrade at a cheaper price while emerging markets received the refurbished products. Paired with the rumored budget iPhone, the trade-in program would help allow Apple to snag a larger share of the smartphone market in places like India and China.
On The 'iWatch' Watch
Finally, there were major rumblings this week in regards to the long rumored smartwatch, or "iWatch," from Apple. First, news came out of Japan that the company filed to trademark "iWatch" in the country. Then word spread that Apple filed for trademarks in Mexico, Taiwan, Turkey and Colombia, too
This marked the biggest news on "iWatch" watch since the New York Times reported in February that Apple was working on curved glass wristwatch-like device capable of running on the iOS platform. In May, CEO Tim Cook coyly hinted that "the wrist is interesting" as a place for a high-end gadget.
Meanwhile, Google has mark the face as the next frontier for wearable tech, and has been perusing a markedly different strategy for marketing Google Glass. Instead of keeping its next big product a closely guarded secret like Apple is, Google has done a limited release of its augmented-reality specs to a group of "Explorers."
BEFORE YOU GO
PHOTO GALLERY
iOS 7's New Look