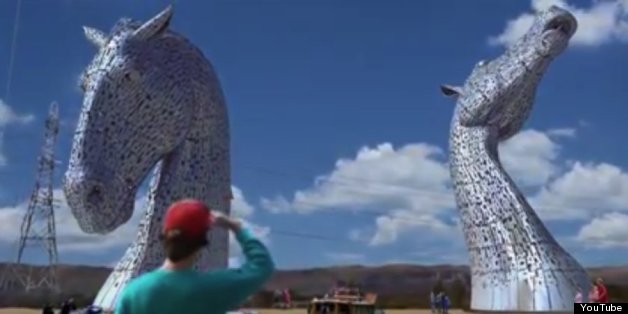 Do you have an irrational fear of water horses, those supernatural creatures rumored to swim the lochs of Scotland? If so, you will want to steer clear of a little patch of land between Falkirk and Grangemouth because the area's new public art project will surely give you nightmares.
"The Kelpies" pays homage to the aquatic beasts of Celtic yore in the form of two 98-foot steel sculptures. Placed right at the entrance of The Helix, a $56 million park and recreation area, the works resemble two giant, rearing horse heads emerging from beneath the surface of the Earth.
The gargantuan artworks were imagined by sculptor Andy Scott (who seems to have a thing for creating monster horses). At 300 tons each, the two kelpies are slated to become the largest works of equine art in the world when construction ends in mid-August, according to the Scotsman.
Watch the video above for more information on "The Kelpies" and let us know your thoughts on the bizarre public art project in the comments.
BEFORE YOU GO
PHOTO GALLERY
25 Buildings to Demolish Right Now