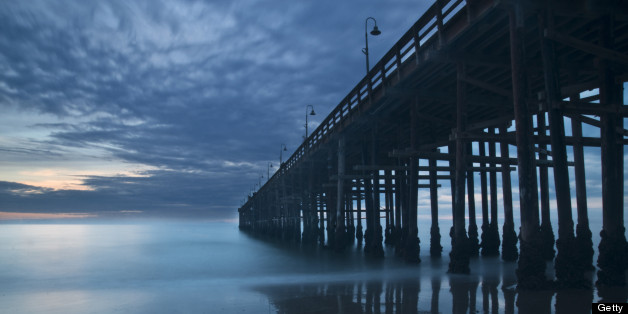 "When I started feeling the current, I knew that if I wasn't going to put all my strength into it, we could (both be) dead."
Those were 16-year-old Christian Lozano's thoughts as he fought the waves that threatened to slam him and the little girl he was trying to rescue into the pilings of the Ventura Pier Friday.
But Lozano successfully battled the surf and brought Maya Harding, 11, to safe ground. The girl's grandfather, Ventura resident Paul Harding, contacted The Californian a couple of days later searching for Lozano, who lives in Bakersfield.
Harding knew the teen's name but not how to contact him. Maya also wanted to thank her rescuer, which she had been too rattled to do following her harrowing experience.
On Tuesday, Maya was "happy (and) excited" to learn her hero's identity. Harding said the little girl is anxious to see Lozano in person, and the teen and his family are also eager to meet.
"I feel a sense of obligation and a sense of gratitude ... Any way I can help him going forward in life, I would be happy to do so," Harding said.
Lozano was enjoying the beach with friends last week while on a trip to the coast with his family when he noticed a little head poking up from the waves. Then he heard a cry for help.
"I just had the reaction, 'If I don't get her she's gonna die,'" Lozano said.
Lozano, a sophomore at Mojave River Academy, thinks years of surfing and his training with Bakersfield Young Marines prepared him for the rescue. He swam to Maya and told her to grab onto him and stay calm.
As he swam for the beach, Lozano struggled to keep from crashing into the pilings as the waves pushed him and Maya toward the pier. He instructed Maya to hold on tighter and hold her breath as waves overtook them.
When they reached the shore, Lozano felt calm as strangers rushed to congratulate him. He spoke to Maya's grandfather briefly after handing the terrified girl to him.
When Maya and Harding left the beach, Lozano went right back into the water.
Patty Lozano, Lozano's mother, said she and her husband, John Lozano, normally wouldn't let their son venture to the beach by himself, but she is glad they made an exception on Friday.
"Words can't even describe how proud I am of him because he put his life on the line for a little girl that he didn't even know," Patty said through tears. "I'm just so thankful that my son was there at the right time."
John Gonzales, executive officer of Bakersfield Young Marines, said he has a letter ready to send to the program's national offices in Washington, D.C., recommending Lozano for the group's Lifesaving First Degree ribbon.
Aside from the accolades, the rescue affirmed Lozano's career goals to join the Marine Corps and later the U.S. Coast Guard.
"I know now that I could save someone's life," he said.
BEFORE YOU GO
PHOTO GALLERY
People Receive The Best News Ever