A group of independent and amateur filmmakers in Hong Kong have already produced a short movie about Edward Snowden, and the lead actor's resemblance to the NSA whistle-blower is stunning.
Andrew Cromeek, who plays Snowden in "Verax," is an American English teacher living in Hong Kong, according to multiple sources. Cromeek underwent a remarkable transformation for the short film, which has been viewed over 129,000 times since being uploaded to YouTube June 25.
The real Edward Snowden (left, pictured in a Guardian video) and Andrew Cromeek (right) who plays Snowden in the short film, "Verax."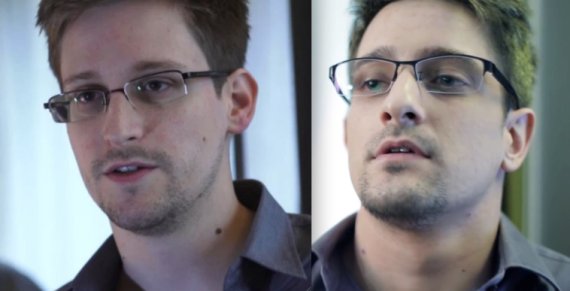 "Verax," the title of the dramatic, five-minute film -- produced in less than a week for under $600 -- comes from the codename Snowden used to correspond with a Washington Post reporter. The term means "truth teller" in Latin.
The film, which was made by Hong Kong-based multimedia journalist Edwin Lee (who used to work for the South China Morning Post) and a handful of Lee's expatriate friends, depicts Snowden's time holed up in a Hong Kong hotel room while the CIA and China's Ministry of State Security tried (unsuccessfully) to track him down.
The movie contains some subtle yet clever tidbits from Snowden's suspenseful journey from a defense contractor employee living in Hawaii to an international fugitive accused of espionage.
Filmmakers rented a room to film in at Hong Kong's now-famous Mira Hotel, where Snowden hid from officials after leaking details of the U.S. National Security Agency's surveillance program. The clip also shows the 30-year-old (who is also a former NSA employee) playing with a Rubik's cube -- an item he reportedly used to identify himself to reporters.
Click the video above to watch.