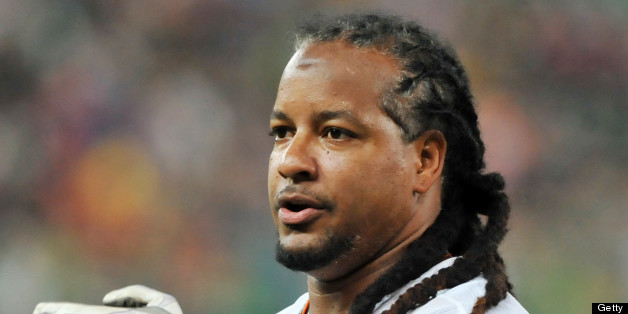 Manny Ramirez is back, almost.
The Texas Rangers announced on Wednesday that they have signed the 41-year-old slugger to a minor-league contract. Ramirez began the 2013 season playing with the EDA Rhinos in Taiwan but returned to the U.S. in June.
GM Jon Daniels announces today that the Rangers have signed Manny Ramierz to a 1-year minor league contract. pic.twitter.com/y75AljIhTd

— Texas Rangers (@Rangers) July 3, 2013
A 12-time MLB All-Star and the MVP of the 2004 World Series, Ramirez hit .352 with eight home runs and 43 RBI in 49 games with the Rhinos this season, according to The Associated Press.
"The reason he decided not to return for the second half was to free himself to be available to play in the United States," Ramirez's agent, Barry Praver, told FOX Sports after he left the Rhinos. "This whole thing with Manny in Taiwan was a phenomenon. He invigorated the league. Attendance went through the roof. It was a very positive experience for both sides."
Ramirez will report to the Rangers' Triple-A Round Rock Express, according to Evan Grant of the Dallas Morning News.
MORE FROM THE ASSOCIATED PRESS:
ARLINGTON, Texas — Manny Ramirez is apparently cutting his long dreadlocks for another shot at the major leagues.

The Texas Rangers said Wednesday they had agreed to terms on a minor league contract with the 41-year-old slugger, who hasn't played in the big leagues since 2011 with Tampa Bay.

Rangers general manager Jon Daniels said part of the deal was Ramirez, twice suspended for testing positive for banned drugs, agreeing to cut his hair and "comply with our minor league rules on appearance and discipline."

Ramirez was set to report to Triple-A Round Rock on Thursday, and he will be a designated hitter whenever he is activated. He played for three months in Taiwan before leaving the Rhinos on June 20.

"It's kind of a no-risk flier," said Daniels, indicating there was no time frame for him to be called up to the majors. "We like giving guys second chances. We know on and off the field the good and bad in Manny's career. But we're inclined to give him an opportunity here."

Ramirez hit .352 with eight homers and 43 RBIs for the Rhinos. The team tried to keep the 12-time All-Star, but he wanted to return to his family in New York.

Daniels said Ramirez was looking for an opportunity to play either in the United States or Japan.

Ramirez was suspended for 50 games in 2009 while with the Dodgers after testing positive for a banned drug. He retired in April 2011 instead of serving a 100-game ban for a second positive test, but later agreed to a reduced 50-game suspension and played in the minors for Oakland in 2012.

A lifetime .312 hitter, Ramirez is 14th on the career home runs list with 555.

The Rangers didn't see Ramirez play in Taiwan, nor were they among the teams that worked him out in Florida recently, Daniels said.

"We're really just kind of going off the resume here a little bit," Daniels said. "If he's productive and we feel he fits our culture here in the clubhouse, we'll give him an opportunity," Daniels said. "If either of those ends don't pan out, then kind of no harm, no foul."