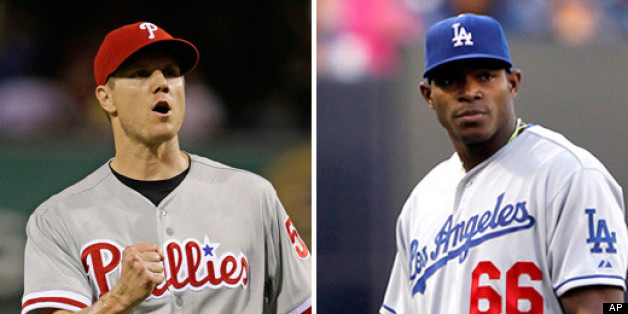 Yasiel Puig's historic first month with the Los Angeles Dodgers has plenty of baseball fans believing that he should be on the National League All-Star team.
Jonathan Papelbon disagrees, vehemently.
The Philadelphia Phillies' closer didn't hold back when he was asked about whether Puig should be an All-Star this year in an interview aired on MLB Network Radio on Tuesday.
"To me, it's an absolute joke. It's really kind of stupid if you ask me. The guy's got a month in the big leagues. I don't even think he's even got a month in the big leagues. And you're comparing him to this and that and you're going to say he's going to make the All-Star team, that's a joke to me," Papelbon said. "It's just what happens in baseball. To me it really does an injustice to the veteran players that have been in the game for eight, nine, 10 plus years. It kind of does them an injustice because those guys worked so hard to stay there."
Just hours later, the 22 year-old Cuban had a three-hit game that included a 451-foot solo home run.
It was his fifteenth multi-hit game and seventh in which he's had at least three hits in his short career. In fact, Puig's 44 hits in June is the most ever in a player's debut month since Joe DiMaggio had 48 in 1936. Papelbon may be disappointed to learn that DiMaggio did earn a starting spot in the Midsummer Classic in '36.
LISTEN TO AUDIO BELOW
BEFORE YOU GO
PHOTO GALLERY
2013 MLB Season Highlights