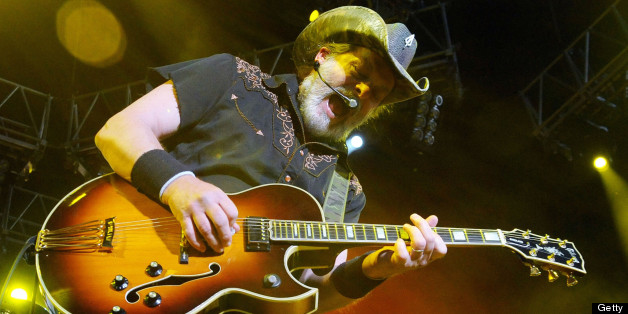 Eat The Press' official spirit guide, Rachel Weiner, highlights this part of a long piece on aging rocker Ted Nugent in the Washington Post magazine, in which Nugent is apparently having thoughts about running for president, in between having thoughts about guns, and delicious meat, and probably sex:
"Things are just so wrong in the country now," Nugent said. "And I know that my answers would make things wonderful, unless you just refuse to produce, and then I'd recommend that you move to Canada. Or Illinois."

He even has a slogan picked out: "Hi, I'm Ted Nugent. I have nine children from seven women, and I'm running for president."
And that's about where American political culture is located these days, somewhere between a stack of Paula Deen recipes for fried cheese and a latter-day episode of The Simpsons.
READ THE WHOLE THING:
Ted, white and blue: How Ted Nugent has rocked politics [Washington Post]
[Would you like to follow me on Twitter? Because why not?]
BEFORE YOU GO
PHOTO GALLERY
Ted Nugent's Most Outlandish Statements