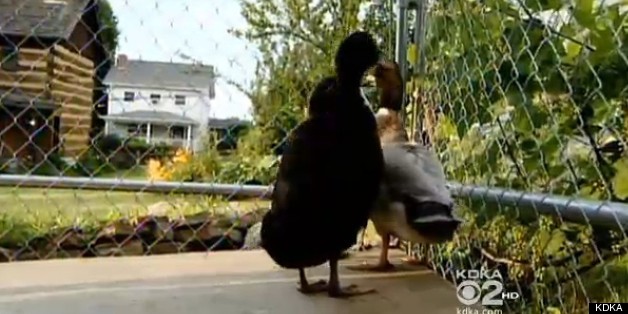 This law is for the birds, according to a Pennsylvania man facing steep penalties for his pet ducks.
Authorities are threatening James Kistler of Delmont, a town east of Pittsburgh, with fines of $500 per day because his four pet birds violate local zoning rules, reports TV station KDKA. He got his first warning in May.
A long list of animals are banned by a household pet ordinance, the Pittsburgh Tribune Review reports.
Owners cannot keep swine, goats, sheep, insects, reptiles having a venomous or constrictor nature, bovines, quadrupeds and poultry -- such as ducks -- in the living quarters of a residential structure.
To Kistler, it's a bird-brained rule that says his blue Swedish ducks -- named Larry, Curly, Moe and Fred -- have to go.
"Frankly, how can anyone tell you what kind of pet you can have!" Kistler said, according to CBS.
And talk about a big duck bill; if Delmont officials impose the penalty it will quickly cut into Kistler's nest egg.
But he and his wife Dawn decided to fight for their fine-feathered friends, Fox News reports. They're going to file a $400 appeal which they hope will allow the ducks to continue to live in their backyard in a large cage and wooden birdhouse.
Town officials have not commented about Kistler's case.
"It's not easy to deal with," Kistler told FoxNews.com. It is absolutely ridiculous. I am very upset about it."
BEFORE YOU GO