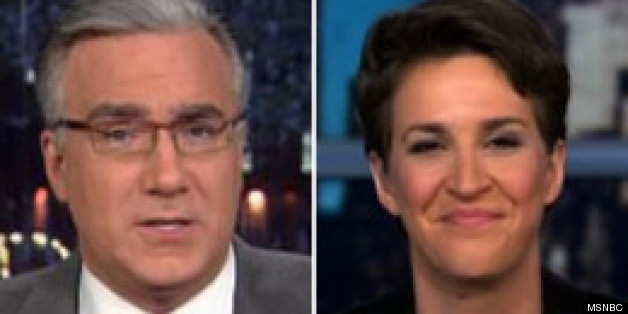 Keith Olbermann called out Rachel Maddow on Tuesday after he tweeted about MSNBC's ratings.
MSNBC has had some rough ratings months as of late, falling into third place in primetime viewers for the second quarter of 2013. In total viewers across daytime programming, MSNBC fell to fourth place behind Fox News, CNN and HLN.
When Olbermann responded to a tweet about the network's ratings performance, another Twitter user asked if he was criticizing Maddow.
Olbermann responded, "It's about the collapse of that network. I don't know anything about her any more; she hasn't bothered to speak to me since I left."
Last year, Maddow appeared on Bravo's "Watch What Happens Live" and was asked if she had spoken to Olbermann since he left MSNBC in 2011. "No," she said. "But it's not like we've been fighting. We just haven't been talking."
When Olbermann moved to Current TV, his show had an awkward collision with Maddow's MSNBC program. He announced that his then-8:00 p.m. show would last for 63 minutes. When some of his Twitter followers pointed out that the show would creep into the first three minutes of Maddow's show on MSNBC, Olbermann defended the move, calling it "a competition." He later turned his show into a 60 minute program.
BEFORE YOU GO
PHOTO GALLERY
Rachel Maddow Through The Years