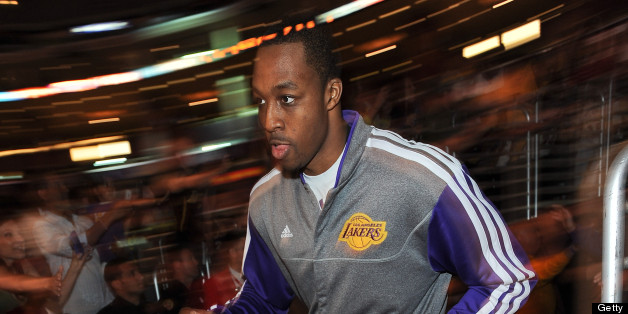 There will be no Hollywood sequel for Dwight Howard.
Following several days of meetings and a frantic series of reports on Friday, Howard has decided to join the Houston Rockets, as first reported by Sam Amick of USA Today Sports.
"I've decided to become a member of the Houston Rockets," Howard said in a brief statement issued via his Twitter account. "I feel its the best place for me and I am excited about joining the Rockets and I'm looking forward to a great season. I want to thank the fans in Los Angeles and wish them the best."
The 27-year-old center has been the most coveted member of the 2013 free agent class. His reported choice to join the Rockets means that he will play for his third team in as many seasons.
"We have been informed of Dwight's decision to not return to the Lakers," Lakers General Manager Mitch Kupchak said in a statement published at the team's website. "Naturally we're disappointed. However, we will now move forward in a different direction with the future of the franchise and, as always, will do our best to build the best team possible, one our great lakers fans will be proud to support. To Dwight, we thank him for his time and consideration, and for his efforts with us last season. We wish him the best of luck on the remainder of his NBA career."
After playing the first eight seasons of his career with the Orlando Magic, who selected him with the first overall selection in the 2004 NBA Draft, Howard pressured and pouted his way to Los Angeles before the 2012-2013 season. Following his tumultuous first season with the Lakers, Howard made no secret about his interest in exploring free agency.
"I'm going to take my time, get away from the game, get away from my phones and everything, just clear my head," Howard said during his exit interview following the Lakers' first-round exit from the NBA Playoffs. "I think I deserve that right, so that's what I want to do. ... I do what's going to be best for myself, what's going to make me happy. At the end of the day, I can't control who likes me, who dislikes me, but I have the right to be happy."
As he prepared to exercise his rights as a free agent, Howard was courted by the Lakers, Rockets, Golden State Warriors, Atlanta Hawks and Dallas Mavericks. Following meetings with his eager suitors, Howard and his camp went to Aspen, Colo. to weigh the merits of each team. The Lakers pushed hard to keep Howard in Los Angeles, hanging a massive banner emblazoned with the plea "STAY" on the Staples Center and calling on Kobe Bryant and Steve Nash to aid in the team's pitch on Tuesday.
"You need to learn how it's done first, and I can teach you here," Bryant told Howard, according to an unnamed witnesses to the presentation who spoke with Yahoo! Sports. "I know how to do it and I've learned from the best – players who have won multiple times over and over."
Following the Lakers' presentation to Howard, Nash told reporters it was "a very productive meeting," according to Ramona Shelburne of ESPN Los Angeles. Tempering the enthusiasm in Los Angeles was a tweet by ESPN's Chris Broussard on Thursday indicating that Bryant's full-court press and talk of mentorship may have been a "complete turnoff" to Howard, according to unnamed sources described as "close to Howard."
Rather than relying on active players to woo Howard, Rockets general manager Daryl Morey called in a pair of Hall of Famers when he met with Howard in the early hours of the NBA's free agency period on July 1. Hakeem Olajuwon and Clyde Drexler joined Morey as he pitched Howard on the chance to pair with James Harden, according to Jonathan Feigne of the Houston Chronicle.
Following Amick's first report on the decision on Friday, Morey tweeted that he had yet to hear from Howard but was "cautiously optimistic."
While we are excited & cautiously optimistic @DwightHoward might choose Houston, we have not yet heard about his decision

— Daryl Morey (@dmorey) July 5, 2013
Morey would have been forgiven if his optimism flagged at any point on Friday as Amick's initial report was also followed by series of tweets indicating that no decision had been finalized.
Dwight Howard's agent, Dan Fegan tells Y! Sports: "Dwight has not finalized his decision."

— Adrian Wojnarowski (@WojYahooNBA) July 5, 2013
According to a source close to Howard, Dwight has informed DAL, GSW and ATL they're out of the running. Lakers yet to hear anything

— Dave McMenamin (@mcten) July 5, 2013
Source: Dwight Howard is still deciding between Houston and L.A. The additional money he can earn with the Lakers is a big factor.

— Alex Kennedy (@AlexKennedyNBA) July 5, 2013
Dwight Howard is currently flying from Colorado to Los Angeles and plans to speak to Lakers General Manager Mitch Kupchak later today.

— Mike Bresnahan (@Mike_Bresnahan) July 5, 2013
With Howard having flown back to Los Angeles, Chris Broussard of ESPN reported that he was "waffling" and the Lakers still had a 50/50 chance, citing an unnamed source.
Chris Broussard reports Dwight Howard is waffling. "Hey, he's Dwight." source said.

— Ramona Shelburne (@ramonashelburne) July 6, 2013
Source: D12 has landed in LA & told Lakers it's 50-50 btwn them and the Rockets. He's having 2nd thoughts about leaving $30 mill on table

— Chris Broussard (@Chris_Broussard) July 6, 2013
Seemingly refuting that source's information, the Lakers soon issued their statement about Howard's split with the organization. Not long after that, Howard tweeted his own statement. Following the statements from the Lakers and Howard, Morey switched gears from cautious optimism to outright exuberance.
Welcome to Houston @DwightHoward!!! Years of work by Dwight & Rockets went into this. This team is going to be special.

— Daryl Morey (@dmorey) July 6, 2013
Given the attention paid to the courtship of Howard, his history of drama going back to Orlando and the cluttered reporting of the final few hours, the Dwightstakes sparked plenty of conversation on Twitter.
PHOTO GALLERY
Reactions To Dwight Reports