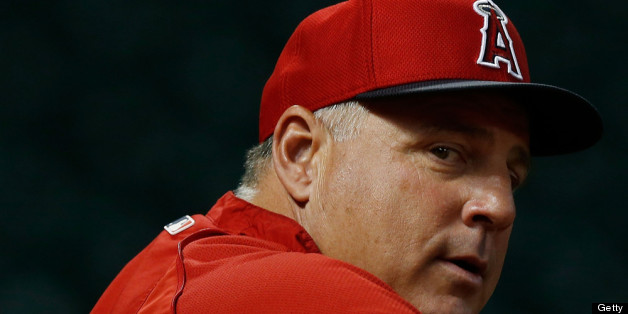 Add Mike Scioscia to the list of people who believe Dodgers rookie Yasiel Puig doesn't belong in the All-Star Game this season.
Just a few days after Philadelphia closer Jonathan Papelbon called the rookie's All-Star consideration "an injustice," the Angels' manager told Bill Shaikin of the Los Angeles Times that Puig needs to put in more time in the big leagues.
"I think he needs to go a little farther to earn it," Scioscia said. "If he's not an All-Star this year, he's going to be an All-Star for years to come. But I do think you have to play enough to earn a spot on the All-Star team."
Puig recorded 44 hits during the month of June, the most ever in a player's debut month since Joe DiMaggio in 1936. Heading into a road game against the Giants on Friday night, Puig is batting .430 with eight homers in 114 at-bats.
Bruce Bochy, this year's National League manager, said in the middle of Puig's historic month of June that it would be "hard" for him to consider the Cuban defector for the All-Star team
"I would have a hard time picking somebody who has been here three weeks, to be honest," Bochy said in an interview on MLB Network Radio channel on SiriusXM, via the Los Angeles Daily News. "The numbers would have to be so stupid that you say, 'Ok I'll consider it.' But, you know, I couldn't take away from a player who has been here and done it the whole half and been out there grinding every day and he doesn't go."

BEFORE YOU GO
PHOTO GALLERY
2013 MLB Season Highlights