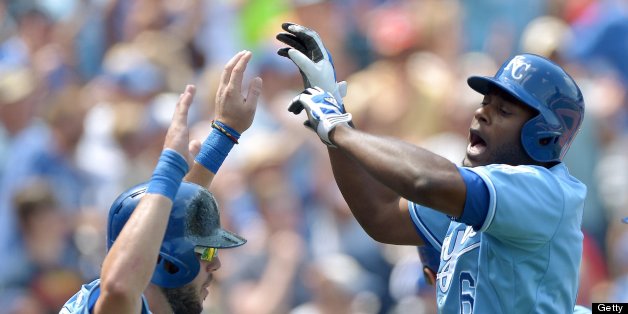 By Chris Yuscavage, Complex Sports
As far as betting odds go, we have to believe that any bet involving a grand slam by the Kansas City Royals would probably be a long shot. Although the Royals are hovering around .500 this season, they're typically one of the worst teams in Major League Baseball. So we certainly wouldn't bet on them to do anything, let alone hit a grand slam.
But back in May, Kansas City resident Debbie Hassed decided to take a chance on her team. She entered the Royals' Sonic Slam contest and, on Thursday, her name was drawn as the KC fan who would receive $25,000 if the Royals hit a grand slam during their game against the Cleveland Indians. And sure enough, Royals center fielder Lorenzo Cain knocked one out of the park with the bases loaded in the sixth inning. It helped get the Royals back into a lopsided game, and it awarded Hassed with $25,000.
"Congrats on winning the Sonic Grand Slam award," Cain said after the game. "Spend that money wisely."
Our advice? Don't bet it on the Royals, Debbie. Your luck is only going to stretch but so far when it comes to your team.
RELATED: How Major League Baseball Lost Its Way
[via KCTV5]
BEFORE YOU GO
PHOTO GALLERY
2013 MLB Season Highlights