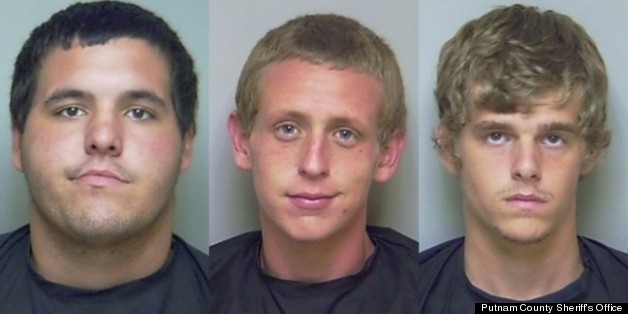 What the cluck were these guys thinking?
Three men were charged with grand theft after allegedly stealing a purple, 9-foot, 600-pound aluminum chicken statue, First Coast News reports.
Darrin Luke Edwards, 19, Tyler Lee Jones, 21, and James Joseph Smith, 18, were arrested for hatching the plan on Wednesday in San Mateo, Fla. Ben Smith, the chicken's owner notified authorities after hearing a ruckus outside around 6 a.m. Tuesday.
Smith told deputies that when he went outside, he saw the bird being dragged down the street behind a Chevrolet truck, News 4 Jax reported. One man allegedly mounted the chicken and rode its back about a mile down the road. They then unhooked it and fled.
Detective Shannon Depew told the station the suspects were located the next day from "information provided by eyewitnesses and video surveillance on the property."
The statue, valued at $2,300, sustained a lacerated leg, a cracked claw, and a scraped side, according to the Florida Times-Union.
Jones and Smith were both released from Putnam County Jail on a $1,004 bond. Edwards, who was also charged with violating probation, remains in jail without bond.

H/T Fark.com
BEFORE YOU GO
PHOTO GALLERY
Dumb Criminals: Mugshot Gallery