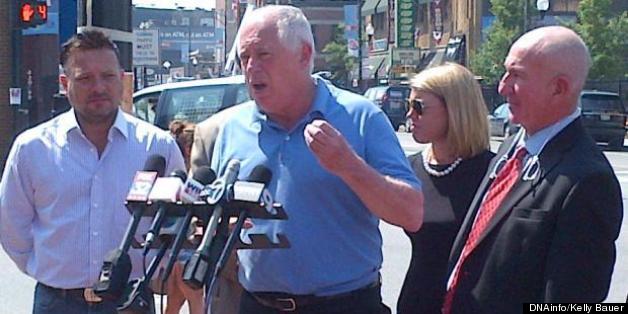 In a Friday announcement made from one of Chicago's busiest, most bar and restaurant-heavy districts, Gov. Pat Quinn urged lawmakers to accept his proposed changes to the state's concealed carry law while blasting guns and booze as a "toxic mixture."
Quinn stood alongside Chicago restaurant owners in Wrigleyville as he publicly pressed lawmakers to keep his proposed changes, which include a ban on guns from any establishment that serves alcohol. Saying allowing guns and alcohol to mix would be a "prescription for violence and disaster," Quinn cited Wrigleyville as an example of a hot tourist destination that could suffer if the current concealed carry law stands.
"It is an unsettling feeling to stand next to someone doing a couple of shots of tequila or whiskey and having four beers who has a weapon," Sam Sanchez told the Sun-Times. Sanches, who owns Moe's Cantina and John Barleycorn restaurants said the Friday night crowd can average 900 people at each of his establishments.
If anyone is allowed to carry a weapon, he said, "People feel uncomfortable. People will leave."
Under the current legislation, concealed weapons would be banned from sports centers like Wrigley Field. Glenn Keefer of the Illinois Restaurant Association questioned why, under the same legislation, concealed guns would be allowed in other establishments that serve alcohol, such as sports bars.
Keefer, who told DNAinfo Chicago that he once lost a friend to a drunken gunman outside a bar said, "It is illegal to drink and drive. It should be illegal to drink and carry a gun."
"We want people to visit our city," Quinn added. "We want to keep people safe."
The current concealed carry legislation bars guns only from restaurants whose liquor sales amount to less than half of gross sales, the Associated Press reports.
Many legislatures have come out in opposition to Quinn's changes since the governor wielded his amendatory veto power earlier this week. The General Assembly is scheduled to return to Springfield to act on Quinn's amendatory veto by a court-imposed July 9 deadline.
BEFORE YOU GO
PHOTO GALLERY
Pivotal Moments In The Federal Gun Control Debate