A high-end boutique with an in-house juice bar might seem like a surprising fit for Detroit -- even a risky venture. But people came out in droves last weekend to eye Shinola's American-made watches, bicycles and leather goods, with more than 2,000 visiting the new brand's flagship store during Thursday night's preview and the following first three days.
As attendees of the preview event kicked the tires of the sleek bicycles, witnessed a jit performance by a local dance troupe and drank juice and adult beverages, Creative Director Daniel Caudill was besieged by well-wishers. Maybe customers were swayed by the space: the artfully arranged, light-filled space on Canfield Street in Midtown seems designed to hold more than just serious shoppers.
"We want people to come in, sit down, touch the leather, try on the watch, be a part of the brand and feel comfortable," Caudill said. "This is a place where you can touch product and hang out. Not just buy a watch, buy the right watch for you."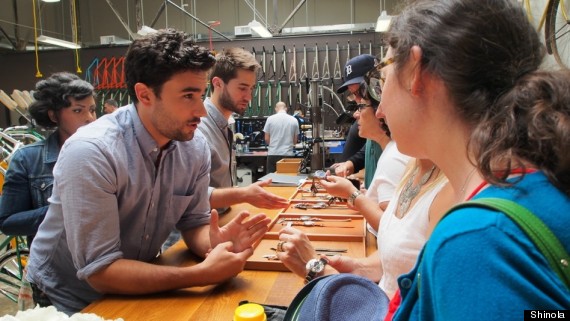 To that end, the store, which will host a variety of events, is also home to DROUGHT. The raw juice company is run by five sisters in the nearby suburb of Plymouth. They are selling pre-made juices out of the store each day, on weekdays opening at 7 a.m. before Shinola begins selling at 10 a.m. to catch the early birds and daily juicers.
Though the store is likely attracting buyers among the scores of curious shoppers (a spokeswoman said they don't disclose sales figures), the brand has already been selling watches faster than they're making them. According to the Detroit Free Press, a 2,500 limited-edition run sold out in one week in March. Though 35 percent of sales were from in state, Shinola has attracted a steady stream of national buzz for the Runwell watch in GQ and men's fashion sites. A smaller run of 600 sold out within a few hours in June.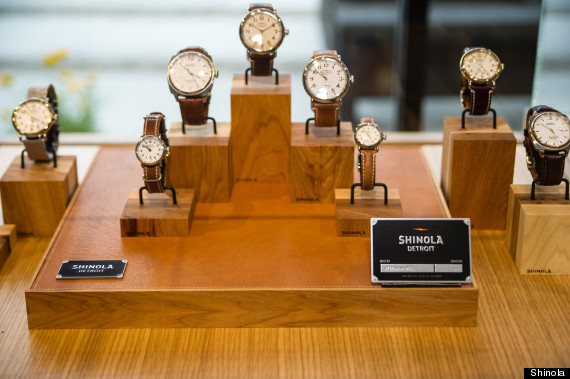 The Runwell, priced starting at $550, is currently sold out on the Shinola site. Barneys New York carries their products, with plans to offer watches in other high-end department stores.
According to Forbes, their current annual capacity is 500,000 watches. The factory could manufacture just over a million pieces at a time.
Shinola is the first company in decades to make luxury watches in the United States, and they're putting a refined spin on Detroit's manufacturing legacy in the process. The Swiss parts are assembled at their factory, which is housed in a historic building that used to be home to a General Motors design studio and now is a part of the city's College for Creative Studies. Bikes are assembled on-site at the store, originally a warehouse for Willys Overland Motor Company.
Shinola is one of several companies betting on manufacturing in Detroit, a decision MLive reports company President Jacques Panis described as part of an effort to reverse the course of globalization. The Detroit Free Press notes Detroit Bikes, Detroit Bicycle Company and soon-to-relocate Slingshot Bikes are also part of the small shift in metro Detroit, where manufacturing jobs are up 5.9 percent from last year, according to the Bureau of Labor Statistics.
It's also taking off in smaller businesses. Shinola collaborates with smaller companies both local and out of state, including Detroit Denim Co. and Smith Shop, which are tenants of Ponyride, an incubator where local craftspeople make leather goods, furniture, jewelry and more.
Shinola was named after an American shoe polish. The company emphasizes the backstory of each of their products, whether capturing the process of building their bike parts at a Wisconsin factory or highlighting the individual craftspeople at Chicago's Horween Leather Company, which makes their watchbands.
While watches, bikes and other goods can be purchased online, some products in the stores can only be purchased on-site. The curated collection at the store includes design books, pens and leather-wrapped bike locks, leather footballs, and, of course, shoe polish.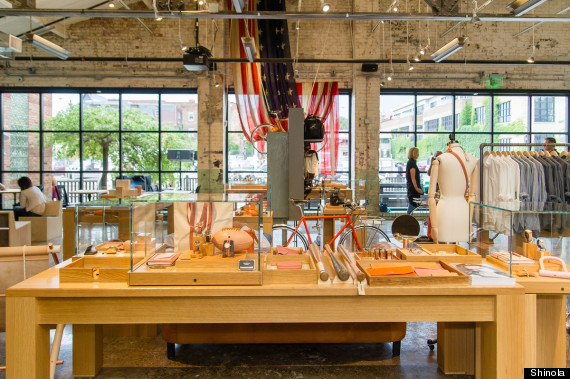 Caudill said their products are for "someone who cares where their product is made and what goes into it."
The brand will also open a store in Manhattan this summer.
"Regardless if it's Detroit or New York or LA, I think our customer is someone who appreciates quality, appreciates classic design, isn't looking for trends," Caudill said. "They're looking for something they can have for years."
PHOTO GALLERY
Shinola Opens In Detroit
CORRECTION: In an earlier version of this story, Shinola Creative Director Daniel Caudill's name was misspelled in several instances. The Huffington Post regrets the error.