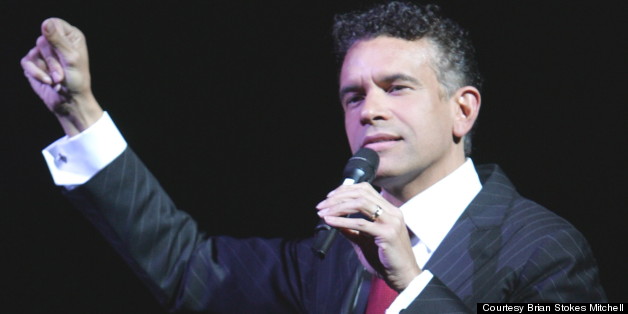 Few people are as enthusiastic about the future of musical theater as Brian Stokes Mitchell. The Tony Award-winning actor, who was last seen on the Great White Way in the musical adaptation of Pedro Almodóvar's "Women on the Verge of a Nervous Breakdown" in 2010, says today's Broadway is part of a natural and "wonderful" evolution of a uniquely American art form.
"Everything evolves, and theater is the same way," Mitchell told The Huffington Post in an interview. "It's about new inspirations, new talent and new ways of looking at things. Musical theater is not what it was 50 years ago or 100 years ago, it's turned into something new, so let's stay on that horse, keep riding it and see what comes next."
Still, Mitchell -- who belongs to that unique group of Broadway performers who inspire excitement simply by having their name attached to a marquee -- will turn back the clock a bit for his July 8 performance at New York's Town Hall. The 55-year-old baritone is the inaugural performer of Town Hall's 2013 "Starry Summer Nights" series, which will also include "The Hit Men" featuring the former stars of Frankie Valli & The Four Seasons (July 18) and Linda Eder (July 22). The basis for Mitchell's forthcoming show is his 2012 album, "Simply Broadway," which includes songs from "Porgy and Bess," "Fiddler on the Roof" and "Les Miserables" among other smash shows, and features accompaniment from longtime pianist and arranger Ted Firth.
The actor calls his new show a whirlwind tour of "50 years of classic Broadway baritone" as told in a stripped-down, piano-and-vocal style. The album (and, consequently, the forthcoming show) also features vestiges of Mitchell's well-known stage roles in "Man of La Mancha" and "South Pacific," though the actor says he made a point to emphasize material he'd never previously recorded.
"I call it haiku-style music, because it really is about the most essential elements," Mitchell, who said he was inspired by the 1975 "Tony Bennett Bill Evans Album," noted. "I treat every song as an acting moment, so these were songs that had really great acting moments in them."
As for his own future on Broadway, Mitchell is mostly tight-lipped, but noted that he's "getting itchy to do another show," though recent years have seen him tackle high-profile turns on television series like "Glee," where he's still contracted for one additional episode as one of Rachel Berry's gay dads ("It's difficult to plan anything when it comes to TV and film…they'll call us as they need to," he said).
Citing leads in "Fiddler on the Roof" and "Sweeney Todd" as among his dream roles, he nonetheless hopes his next project will entail "something we haven't seen yet that we don't know…something by a new young writer. A different voice, different subject matter."
Until then, however, he's relishing his successful concert career: "What's most fun about it is that it's so spontaneous. I'm not stuck to a script and every show can be very, very different and have its own unique fingerprint."
Brian Stokes Mitchell plays New York's Town Hall on July 8. For more information, click here.
BEFORE YOU GO
PHOTO GALLERY
Tony Awards 2013