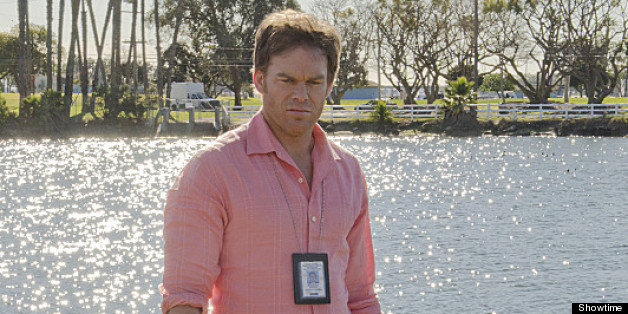 "Dexter" is coming to an end and Michael C. Hall has his eye on a few things from set.
While on "Jimmy Kimmel Live," Hall said his character's desk is already spoken for and nobody cleared it with him, but he's not too broken up about it because he said he's not that sentimental and a desk is a big thing. However, he will be taking some small pieces.
"I think I'll keep his ... ID thing and his watch," he said. "I always thought I'd keep those two." Hall also said he's had his eye on some blood splatter recreations from the character's lab and wants to put it in his guest bathroom.
Hall also revealed that people tend to let him in front of them in line, possibly because they're afraid to have him behind them. The Emmy-nominated actor has been playing serial killer Dexter Morgan for eight seasons on Showtime. The series kicked off its final season to record ratings on June 30.
"Dexter" airs Sundays, 9 p.m. ET on Showtime.
PHOTO GALLERY
'Dexter' Season 8 Photos