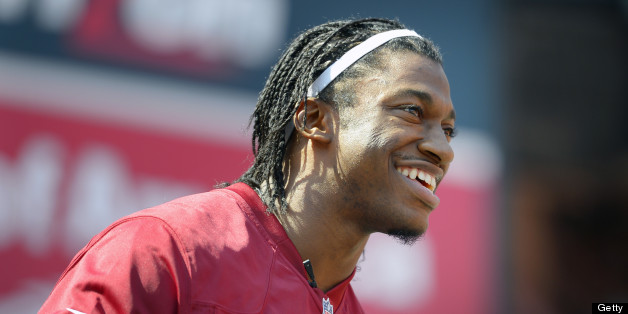 Robert Griffin III may not have a Super Bowl ring but the 23-year-old now has a wedding ring.
The NFL's Offensive Rookie of the Year tied the knot with Rebecca Liddicoat on Saturday. The ceremony was held in Liddicoat's home state of Denver, Colo., according to NFL.com. The couple was engaged in October 2010 while they attended Baylor.
The easiest way to say It......BIG DAY!

— Robert Griffin III (@RGIII) July 6, 2013
Washington Redskins coach Mike Shanahan and Art Briles, Griffin's former coach at Baylor were both in attendance. Briles was one of a few at the wedding to tweet some photos.
NFL Rookie of the Year - Heisman Trophy Winner - most importantly Baylor QB. RG3's wedding! pic.twitter.com/aeyMl4wUNx

— Coach Art Briles (@CoachArtBriles) July 7, 2013
Wedding day for RGIII and new bride Rebecca. No read option, just straight handoff pic.twitter.com/4Lvy8CJXT3

— Chick Hernandez (@CHICKatCSN) July 7, 2013
The wedding party pic.twitter.com/Lf0mjQEW5C

— William Mallow (@Williermo77) July 7, 2013
@RGIII wedding pic . Congrats pic.twitter.com/XxieB8ODwv

— Peach E Pie (@Peachahontas) July 7, 2013
Baylor's @CoachArtBriles and @BUDREW chat with @Redskins coach Mike Shanahan at @RGIII wedding. #sicem #RG3 pic.twitter.com/FidHJUWy70

— Baylor Football (@BUFootball) July 7, 2013
BEFORE YOU GO
PHOTO GALLERY
Best 2013 Sports Photos