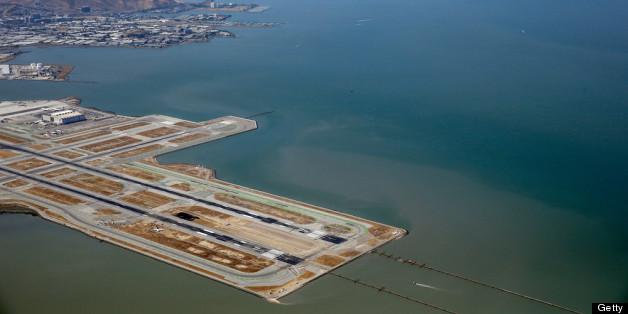 * Glide Path calculates descent path for pilots
* Designed for bad weather - sunny when plane crashed
* System not essential, but investigators will check
By Peter Henderson and Dan Levine
SAN FRANCISCO, July 6 (Reuters) - A navigation system that helps pilots make safe descents was turned off at San Francisco airport on Saturday when a South Korean airliner crashed and burned after undershooting the runway, officials said.
The system, called Glide Path, is meant to help planes land in bad weather. It was clear and sunny, with light winds, when Asiana Flight 214 from Seoul, South Korea crashed just before noon, killing two passengers and injuring more than 100.
Aircraft safety experts said Glide Path was far from essential for routine landings, and it was not unusual for airports to take such landing systems off line for maintenance or other reasons.
But pilots have grown to rely on the decades-old technology, which is designed specifically to prevent runway misses, so investigators are likely to look closely at the issue.
"The pilots would have had to rely solely on visual cues to fly the proper glide path to the runway, and not have had available to them the electronic information that they typically have even in good weather at most major airports," said Captain Chesley "Sully" Sullenberger, the former US Airways pilot who gained fame with a successful crash landing on the Hudson River in 2009.
"What that means is that then the automatic warnings that would occur in the cockpit when you deviate below the desired electronic path wouldn't have been available either. So we don't know yet if that's a factor in this particular situation, but that's certainly something they'll be looking at," he told the local CBS News affiliate.
Glide Path is a computerized system based at an airport that calculates a plane's path of descent and sends it to pilots in real time.
San Francisco International has turned off the system for nearly the entire summer on the runway where the Asiana flight crashed, according to a notice from the airport on the Federal Aviation Administration's Web site. It showed the system out of service June 1-August 22 on runway 28 Left.
Kevin Hiatt, chief executive of the Flight Safety Foundation and a former Delta pilot, said it was common for airports to take instrument landing systems offline for maintenance on clear days. Pilots use several other instruments and visual cues to land in clear conditions, Hiatt said.
"All of those are more than adequate to fly an aircraft down for a successful landing on the runway," he said.
Sullenberger said the San Francisco runway safety area had been increased to avoid short landings.
Airport spokesman Doug Yakel told reporters there had been construction on the runway recently, but not on Saturday.
"Given that we had clear visibility today, we were operating under what's called visual flight rules," when good weather allows a pilot to see well to operate the plane, he added. He did not take further questions on the instrument landing technology.
Former Inspector General of the U.S. Department of Transportation Mary Schiavo said pilots had become increasingly dependent on instruments for flying. But she added that modern planes had plenty of systems for landing safely, down to a pilot watching the lights on the runway.
BEFORE YOU GO
PHOTO GALLERY
SFO Plane Crash
07/07/2013 6:31 PM EDT
NTSB Tweets Photos
The NTSB has tweeted a series of photos related to the Asiana Flight 214 crash. Their Twitter account can be viewed here.
07/07/2013 5:38 PM EDT
Call To Increase Speed Made 7 Seconds Before Crash
A crew member made a call to increase the plane's speed just seven seconds prior to impact, National Transportation Safety Board Chairman Debra Hersman said during the press conference. Hersman said the plane was flying below target speed before crashing.
-Hunter Stuart, HuffPost
07/07/2013 5:12 PM EDT
More From NTSB Press Conference
BREAKING: Official: Asiana flight tried to abort landing, make another try seconds before it crashed -RJJ

— The Associated Press (@AP) 4 years ago
07/07/2013 5:05 PM EDT
Pilots Called To Initiate 'Go-Around' 1.5 Seconds Before Impact
Cockpit voice recorder of Flight 214 reveals pilots called to initiate a "go-around" 1.5 seconds before impact. http://t.co/EqZ8b50bpq

— CNN Breaking News (@cnnbrk) 6 years ago
07/07/2013 4:57 PM EDT
NTSB Holds Press Conference On Flight 214 Crash
Video of the press conference can be viewed here (via NBC News).
07/07/2013 4:21 PM EDT
New Video Provided By CNN Shows Plane Crash
CNN has obtained video shot by Fred Hayes that shows the crash of Flight 214. Click here to see the footage.
07/07/2013 3:16 PM EDT
Doctor: At least 2 victims paralyzed
Doctor: At least 2 paralyzed in SF plane crash: http://t.co/ve8aBsIv0X

— KIRO 7 (@KIRO7Seattle) 4 years ago
07/07/2013 3:15 PM EDT
Who was on the plane?
Asiana Airlines: 141 Chinese, 77 Korean, 64 American, 3 Indians, 3 Canadians, 1 French, 1Japanese and 1 Vietnamese citizens on Flight 214.

— Matthew Keys (@MatthewKeysLive) 6 years ago
Chinese media also said that at least 70 students and teachers were on the plane.
The two teenagers killed in the horrific crash were 16-year-old students from China.
07/07/2013 3:13 PM EDT
Report: Pilots had considerable experience
CCTV: Four pilots on board plane that crashed at San Francisco International, three pilots had over 10,000 flight hours.

— Matthew Keys (@MatthewKeysLive) 6 years ago
07/07/2013 3:07 PM EDT
Doctors release info about injured crash victims
CNN has some information on the state of patients injured in the SFO crash:
Many of the injured said they were sitting toward the rear of the aircraft, said Dr. Margaret Knudson, the hospital's chief of surgery. Several suffered abdominal injuries and spine fractures, some of which include paralysis and head trauma, Knudson said. Many patients also were treated for "severe road rash," she said, which suggests "that they were dragged."
For more details, head over to CNN.