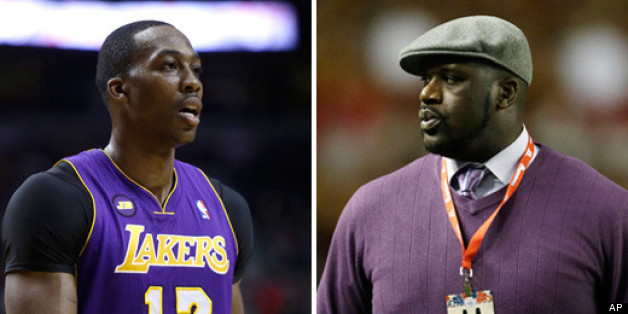 Shaquille O'Neal has never been shy with his opinions about Dwight Howard. That hasn't changed, even if Howard's uniform will.
A day after Howard chose to sign with the Houston Rockets instead of returning to the Los Angeles Lakers, Shaq took a few shots at the seven-time All-Star.
"We've all been in L.A., and not a whole lot of people can handle being under the bright lights," O'Neal said at Daytona International Speedway on Saturday, via the Associated Press. "Everybody wants to do it, but when you get there, there are certain pressures. I think it was a safe move for him to go to a little town like Houston. That's right, little town. I said it."
Shaq has been critical of Howard over the years. When Howard was in Orlando, O'Neal ripped him for calling himself "Superman." Before Howard's single season with the Lakers, O'Neal made headlines by ranking Brooks Lopez and Andrew Bynum ahead of the three-time Defensive Player of the Year at the center position.
After his one season in purple and gold, Howard opted to team up with James Harden in Houston even though the Lakers could offer him a richer contract.
To Howard, the "timing" made L.A. the wrong fit for him.
"I enjoyed, for the most part, living here in L.A. I just really think the timing in L.A., it wasn't right for me," Howard told ESPNLosAngeles.com after making his decision. "Maybe two years ago, or 2-3 years from now, it would have been the right time. But I just think right now the timing was off for me. That's not saying that L.A. is a bad place, but I just think it's all about timing and fit when you're talking about basketball."
BEFORE YOU GO
PHOTO GALLERY
101 NBA Posterizations