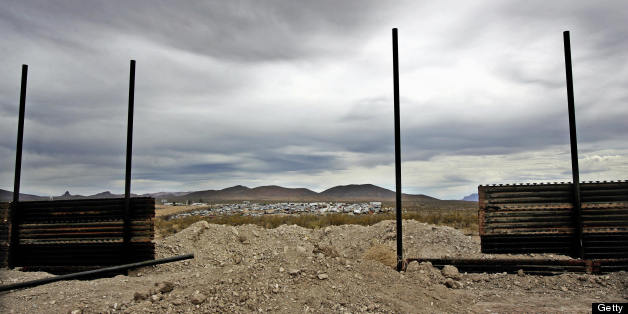 Cochise County, Ariz., a rural swath of desert larger than Connecticut and Rhode Island combined, shares an 82-mile border with Sonora, Mexico. Daniel Ortega, Jr., the Democratic mayor of Douglas, and Adriana Badal, the independent mayor of Bisbee, lead two different border towns in Cochise. Undocumented immigrants cross the border near their cities. Long lines form at the border crossings. And residents suffer from poverty that both mayors believe could be alleviated by more business from Mexico -- though both also worry that immigration reform from Congress won't help the region economically.
But the mayors' perception of border security is markedly different: Ortega believes that a wall is a necessity, Badal thinks migration will happen regardless. Ortega supports more manpower at his city's border crossing, Badal says her town is a militarized zone and there's enough security already.
That two people could share a segment of the border, hold similar responsibilities over it, and still have dramatically different opinions about what to do with it is a testament to how complicated the issue of immigration reform has become. It also doesn't bode well for the immigration legislation's chances in Congress.
As lawmakers in Washington debate legislative solutions, they are increasingly looking to border leaders for guidance. A bipartisan bill that passed in the Senate 68-32 on June 27 would send 20,000 additional border patrol agents, 700 miles of fencing and billions in funding for surveillance to the border. Many House Republicans say those security measures still aren't enough, and in the end, if reform passes, it may mean that resources to border regions go up -- whether or not border mayors want them. And not everyone on the border thinks that's a good idea.
"In my community, I do hear a lot of people say that there are too many border patrol already," Badal said. "They feel that this is a militarized zone."
Bisbee, with a population of 5,500, relies heavily on tourism to sustain its shrinking economy, but the town often faces an uphill battle encouraging tourists to travel so close to the border when reports of Mexican cartels, murders and trafficking hit the news.
While Badal said she knows undocumented immigrants still cross the border through Bisbee, the community doesn't fear those traveling through and heading north. She said she doesn't think most border-crossers are violent, and that apprehensions in the area are down because fewer people were crossing at all. The mayor said that instead, many in Bisbee believe there is already too much police presence.
"I don't think that we'll ever be able to keep them out, no matter how high that wall goes or how long it is, they will find a way if they're starving in Mexico and we have opportunities for them here," she said.
Ortega, in contrast, sees the wall as a necessity.
"Years ago, there were more people just crossing," he said. "They weren't causing harm. They weren't violent. They weren't armed. It's a different story today."
He said people crossing the border are more likely to be smuggling drugs, or engaging in illicit activity, than they were in the past.
"Before, it was people looking for work crossing. They were more humble, and sometimes ranchers would see them and try to help them if they could. But now it's scary for [the ranchers]," Ortega said. "These are their words."
Ortega referred The Huffington Post to Kelly Glenn-Kimbro, a fifth-generation cattle rancher on the outskirts of Douglas. The south boundary of one of Glenn-Kimbro's ranches is the Mexican border, and she reports to have seen groups of up to 100 people crossing through her ranch. Drug traffickers pass through "at least 300 days of the year," she said.
Ortega believes this increase in drug trafficking validates having a border wall line his community.
"Well, it's ugly. But unfortunately, I believe it's a necessity," he said. "When I was young growing up in this town, we had a little fence, and people respected it and there weren't really issues."
With or without a fence, both mayors worry about how increasing border security could impact their cities' struggling economies.
Economic stagnation has been a continuous problem for the region, and Douglas and Bisbee are no exception. Ortega, who owns four apparel and sporting goods stores in his city, said the Mexican community nearby should be seen as a viable market for American goods.
"We want good people who want to come here and shop," Ortega said. "I think the nation just sees Mexico ... as a bunch of people that want to come over here and work. But their economy is robust, and it's growing at a much quicker rate than ours."
A 2007-2008 study conducted by the University of Arizona showed 81.6 percent of Mexican residents entering the United States through Douglas did so for the purpose of shopping -- the highest proportion of all points of entry in the state of Arizona. There is also demand for American products on the Mexican side of the border -- Agua Prieta, Douglas' sister city in Mexico, has a higher per-capita income when compared to Mexico as a whole, and has an economy that is growing more quickly than that of Douglas. Agua Prieta is larger than Douglas; the city on the Mexican side has a population of 130,000, compared to Douglas' 18,000.
Business ties and visitor flows are highly susceptible to fluctuations in the U.S. economy, such as were seen in the U.S. recession. When the 2008 financial crisis struck, the Mexican peso depreciated and local businesses got pinched. Coupled with long waits at the border-crossing, Mexican shoppers were often deterred from coming to the States to shop. In 2009, according to the University of Arizona, 4.5 million people entered the U.S. through Douglas. In fiscal year 2011, 3.7 million used the Douglas border crossing.
Like many communities located along the border, Douglas is significantly poorer than the rest of the state of Arizona. The median household income is $27,356, contrasted with the statewide average of $50,752.
A few months ago, Ortega and Badal established the Arizona Sonora Border Mayors Coalition, which, among other purposes, serves as a forum for the mayors in the area to discuss economic development. They meet every other month, either in Arizona or in Mexico, Badal said, and are focused on border safety rather than border security.
"In our opinion, this part of the border is secure and is safe, for purposes of tourism and purposes of establishing businesses. So what we want to do is promote that, and bring more residents and more tourists and more opportunity here," she said.
The economic development the mayors discussed is not often mentioned in the immigration debate. Ortega encouraged elected officials to visit the region they're trying to govern.
"We need immigration reform, and it's unfortunate that it's become political and not practical, what's common sense, what do we really need," Ortega said.
"We're sister cities with our neighbor to the south. We're one community basically," he added later. "And yet, decisions are made by people who never even take the time to get to know our area."
BEFORE YOU GO
PHOTO GALLERY
11 Ways Immigration Reform Helps The Economy