We're very excited to syndicate one of our favorite columns, 'What Is It? What Is It Worth?' from one of our favorite magazines, Country Living. All text and images below are provided by Country Living. Get ready to be surprised!
"This organizer turned up at a garage sale years ago. Any idea what it was used for?" -- J.J., Barnsdall, Oklahoma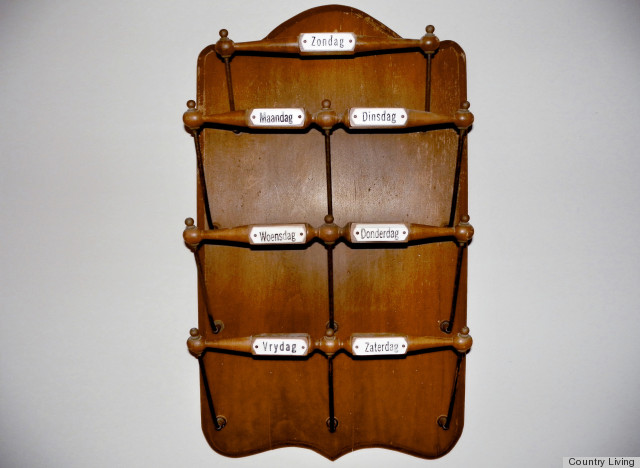 Late-19th-Century Newspaper Rack
Professional appraiser Helaine Fendelman identifies and evaluates your collectibles and antiques.
Designed to hold daily periodicals—which would've been tucked behind the tiered rails— your handsome mahogany display presumably hung at a cafᅢᄅ or other public gathering place in the Netherlands. Its seven white porcelain labels indicate the days of the week in Dutch. In fact, the language offers an important clue about the accessory's age: The bottommost left tag is printed with "Vrydag," an old Dutch spelling of "Friday" that had largely fallen out of favor by the early 1900s. Iron supports and sausage-and-ball carvings further bolster the turn-of-the-century estimate. While there's no maker's mark and the wood finish is slightly cracked, your conversation piece still fetches a pretty penny.
Click through our slideshow to see other fabulous vintage finds from Country Living.
PHOTO GALLERY
What Is It? What Is It Worth?