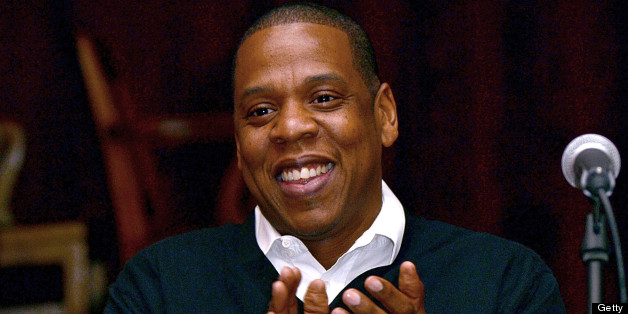 Usually one to keep quiet on social media, Jay-Z began tweeting up a storm on Monday morning and kept up through most of the day.
The 43-year-old rapper took to his Twitter account to respond to fan messages, tweeting every few minutes. Before Monday, Jay had under one hundred tweets total, previously using the site for special occasions, such as his wife, Beyonce, performing at the Super Bowl, or his collaborator Justin Timberlake reaching a milestone with his latest album.
Last month, Jay-Z went on a rare Twitter rant, speaking out after Billboard chose not to count the one million copies of his album "Magna Carta Holy Grail" that Samsung pre-purchased as a part of a partnership. He used the hashtag #newrules to discuss Kanye West, as well as his protege, J. Cole, before signing off, saying, "Ok that was my yearly allotment, see ya'll [in] 2014."
It seems that Jay-Z thought better of his yearly allotment, more than doubling his tweets for 2013 on Monday alone. Hov mostly focused on fans' reactions to his "Magna Carta Holy Grail" album, mixing it up with answers to random questions, such as the fact that Cap'n Crunch was his favorite cereal growing up.
Scroll through below for a sampling of Jay-Z's tweets from Monday, including the hilarious new hashtag: #mylaugh.
RT @HaterzFr Sir, you're breaking the internets but we thought you "weren't even into that"? :-/ [when I was talking Insta GRAMS]

— Mr. Carter (@S_C_) July 8, 2013
RT @thefader Jay-Z (@S_C_) reveals very little in live Twitter Q&A.[It's only entertainment #mylaugh]

— Mr. Carter (@S_C_) July 8, 2013
RT @realgreatdane if you could tell yourself anything back before you blew up? Which by the way was ages ago. [Time is money #factsonly]

— Mr. Carter (@S_C_) July 8, 2013
RT @TylerBritter Do you still have 99 problems or have they all been sorted? [#newrules new problems]

— Mr. Carter (@S_C_) July 8, 2013
RT @LeBronMrIMF People think I'm crazy when I say I'm not a Jay-z nor a Kanye fan lol [it is us that are crazy. You are the one sane person]

— Mr. Carter (@S_C_) July 8, 2013
RT @BLAZNBEAUTY I wonder why Jay Z actually responding to tweets? [great question..I don't have a great response #factsonly]

— Mr. Carter (@S_C_) July 8, 2013
RT @_VintageVisual LOOOOOOLLL who is in charge of Jay-Z's tweets????? I am dying right now *Jay-Z laugh [well I am of course..FACTS only..]

— Mr. Carter (@S_C_) July 8, 2013
RT @SoSincerex @S_C_ if you could listen to one album and one album only for the rest of your life, what would it be? #MCHG [just kill me]

— Mr. Carter (@S_C_) July 8, 2013
RT @smearedMASCARAA @S_C_ what's your opinion on gentrified Brooklyn ? #MCHG [ buzzkill but, the world is changing, for better AND worse]

— Mr. Carter (@S_C_) July 8, 2013
RT @_unknowncanvas What would you say to people who don't like the #MCHG ? @S_C_ ["You people don't like Xmas or ice cream either I bet"]

— Mr. Carter (@S_C_) July 8, 2013
RT @JStormKravetz @S_C_ what's your favorite movie? [Cliche, but, really great. Godfather2. True Romance is high on my list]

— Mr. Carter (@S_C_) July 8, 2013
RT @DJSqyrd @S_C_ HOW DOES IT FEEL TO BREAK THE INTERNET? #MCHG ["oh what a feeling, ah fuck it I want a Billion." like that]

— Mr. Carter (@S_C_) July 8, 2013
RT @cjzero @S_C_ Is Rick Rubin still lying on your couch? Did he do this yet?
[I havent checked that side of the house in months. prob]

— Mr. Carter (@S_C_) July 8, 2013
RT @chakaworks @s_c_ do you think twerking should replace the electric slide at weddings? [Personally???YES.. Miley is a GOD]

— Mr. Carter (@S_C_) July 8, 2013
PHOTO GALLERY
Beyonce & Jay Z
BEFORE YOU GO