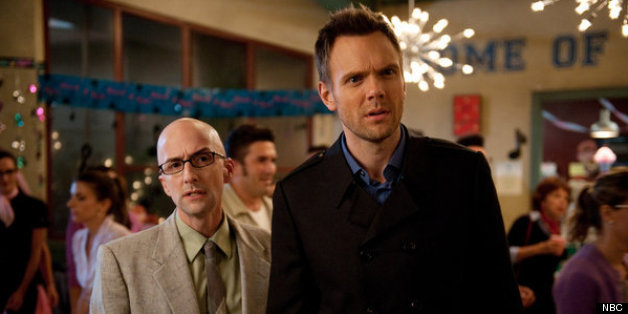 "Community" is coming back for a fifth season -- seriously! -- and along for the ride once again is series creator Dan Harmon.
The writer and producer left the series after Season 3 and was replaced by David Guarascio and Moses Port for Season 4. Harmon recently spoke out about the season of "Community" that happened without him. When he finally watched it, he said, "It is very much like an impression, and an unflattering one" and "Man, watching those characters without me there is just not f---in' cool, man."
Jim Rash, Dean Pelton to "Community" fans, said they "did all we can do, and we did our best."
"I thought the cast and the writers did a great job taking over a difficult task," Rash told Vulture. "And despite that some episodes were probably tonally different, I think they fit in. And we had Megan Ganz, we had Andy Bobrow, great writers who were there two years before, you know, and wrote great episodes last year. So I feel good about what we did to keep it afloat, but it's nice to have Dan back."
Series star Joel McHale also spoke out about Harmon's return. "Dan is the voice of the show and there's nobody else on the planet like him, so when it started happening that he was coming back, I became as excited as a little boy on Christmas morning -- who celebrates Christmas. I'm thrilled he's back, [along with] Chris McKenna, who wrote 'Remedial Chaos Theory,'" he told HuffPost TV.
Could this current 13-episode Season 5 be the last? It's not on NBC's schedule yet, and the series has always been a bubble show.
"Having [Harmon] back is just a great way to -- if this is the final 13 [episodes] or whatever it is -- to sort of bookend," Rash said on HuffPost Live. "Maybe that was what lured everyone back was the idea of sort of finishing this whole thing off."
PHOTO GALLERY
2013 Renewal Index: Canceled, Renewed & On The Bubble Shows