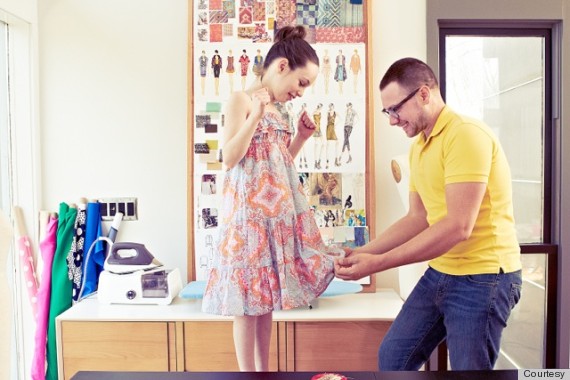 What's a young girl (or boy) to do when she is spending her summer vacation at her parent's beach home in East Hampton? Sure, she could try the regular activities like sailing and tennis. But once she tires of that, she could always sign up for Joe Zee and Rob Younkers' new fashion summer camp, Stitched Fashion Camp.
Stitched Fashion Camp is a new two-week program that will kick off on August 5-16 at the Guild Hall in East Hampton. For the first time ever, 12 lucky children will be granted the exclusive mentorship of Zee, the creative director of Elle, and Younkers, a fashion designer and professor at Parsons The New School for Design.
The attendees, who will range from 8-14 years old, will learn how to sketch concepts for their own cohesive six-piece collections. By the end of the program, they will cut, sew and assemble one out of the six looks, bringing their collections to life. Stitched Fashion Camp is serious about craft: The camp's corporate sponsor is Singer, provider of the campers' sewing machines.
The fee for the two-week event is $1,850, slightly higher than those for the other existing New York City "fashion camps." FashionCampNYC charges $1,295 for its two-week camp and The Fashion Class charges $1,500 for a half-month program.
But Younkers and Zee say they believe the high fee to be worth it. Younkers explains that Stitched is different from other "fashion camps" in that it will be a fashion design camp where attendees will start conceptualizing how to actually design clothing, as opposed to focusing on the merchandising and marketing aspects of the industry alone.
In addition, as Zee told The Huffington Post, Stitched presents to kids the various professional possibilities the fashion world can offer them:
"I think kids today have so much access to inner workings of the fashion industry but do not have any access to it and that's what we're hoping to provide with this camp, but in a fun environment. When I was 16 in Toronto, a friend of mine in the industry said to me that I should be a stylist and my first response was, 'Oh, I don't want to do hair.' And only when he explained it was about clothes and creating looks, then did I even realize such a job existed. Today, kids see it on the Internet and on TV shows, so we want to bring that to life for them."
Younkers will help with the design skills, while Zee will pop in and out throughout the two weeks to offer guidance and feedback on styling the kids' looks. Together, Younkers says, the pair can offer the attendees a very unique experience.
"Where else are they going to be able to work with the creative director of a top fashion magazine and a fashion designer from the best fashion school in the country? It's not happening anywhere else," Younkers tells us.
Of course, there are going to be naysayers, particularly those who consider the idea of "fashion camp" to be a little silly or ridiculous. Younkers says that's only because it hinges on the word "fashion," a word he believes is stereotyped to connote frivolousness. He clarifies that Stitched Fashion Camp offers valuable lessons and benefits to its participants as much as any other traditional camp:
"If you're going to camp for horseback riding, or swimming, or arts and crafts, you're learning how to do something, and this isn't about coming to camp and looking through websites and shopping. These kids are going to learn how to do fashion illustration, make patterns for clothing, and how to sit at a sewing machine and be comfortable enough to learn that skill set. So I understand that when you put that word 'fashion' in front of something, people automatically think it's frivolous, but it's not."
But the camp activities aren't just like horseback riding and swimming. In part thanks to Zee's TV fame and industry credentials, major fashion players will likely make cameo appearances at Stitched. According to Younkers, designers Nicole Miller and Tory Burch are interested in mentoring the kids.
If you're anything like us, you're extremely jealous of the fortunate kiddies who get to learn from these renowned fashion experts. Younkers gets that, which is why he's hoping to expand Stitched to eventually include adult seminars and weekend classes. These proposed workshops would teach regular, "non-fashion" people how to create clothing.
"It's for that girl that says to me all the time, 'Oh there's this dress that I've been imagining that I want to make but I don't know how to do it,'" says Younkers. "Eventually we want to say 'Come to the Stitched studio, you can work with us and sort of bring that to life.' Everybody is afraid of sewing machines, but once you sit down, it's really easy. And even if it's just hemming your pants, well still, that's something that you learned."
In the end, Younkers says the purpose of Stitched Fashion Camp is to educate youngsters and hopefully spark a passion for fashion inside of them. He says he believes starting at an early age allows for more possibility in their future.
"We want to bring their creations to life. We don't want them to come for two weeks, walk away and never sit at a sewing machine again," says Younkers. "I think the younger a kid is, and the more access they have to things, I think the possibility is open to anything."
Of course, that access is limited: Stitched's capacity is almost halfway full with Hamptons kids with parents willing to pay the steep fee. And even those who did score a spot will have to pack a brown bag -- at this camp, lunch is not included.
PHOTOS: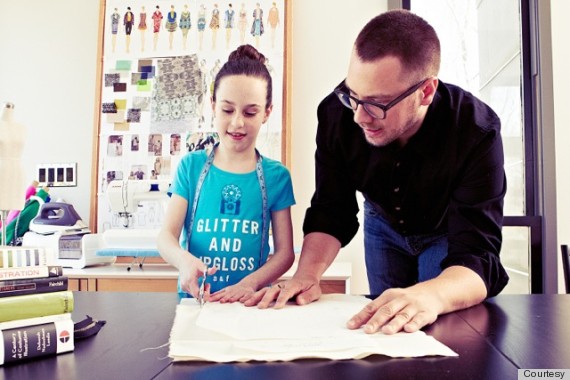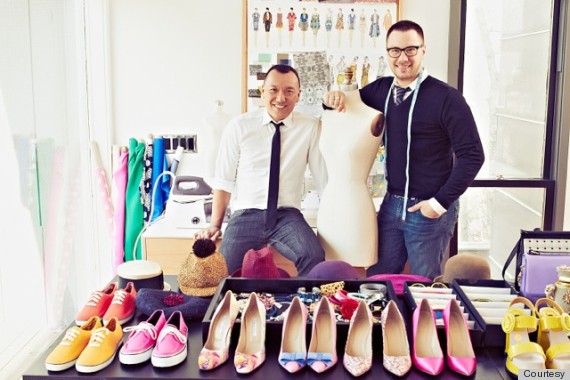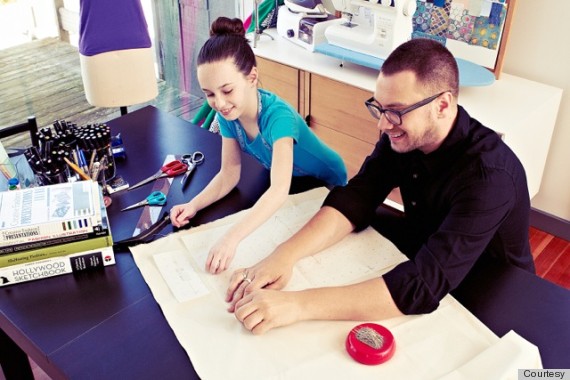 Maybe one day we will see one of these budding fashion designers on "Project Runway"...
PHOTO GALLERY
"Project Runway" Winners
Want more? Be sure to check out HuffPost Style on Twitter, Facebook, Tumblr, Pinterest and Instagram at @HuffPostStyle.