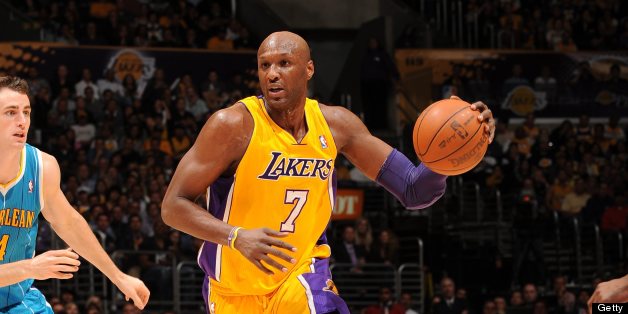 With Dwight Howard choosing the Houston Rockets and the franchise's future murky, the Los Angeles Lakers are reportedly looking to a player from the (recent) past.
Ramona Shelburne of ESPN Los Angeles tweeted on Saturday that the Lakers reached out to Lamar Odom, who spent seven seasons with the team from the 2004-2005 season through 2010-2011.
Lakers have reached out to Lamar Odom, but it been hard to determine how high interest level is on either side thus far.

— Ramona Shelburne (@ramonashelburne) July 6, 2013
Even after the Lakers surrendered much of the financial flexibility by agreeing to a deal with free agent center Chris Kaman on Monday, Shelburne reported that the team still had interest in the 33-year-old who helped the team win NBA championships in 2009 and 2010.
Lakers still interested in Lamar Odom, among others. But have only vet mins now after Kaman signing today

— Ramona Shelburne (@ramonashelburne) July 8, 2013
The interest is mutual, according to Hollywood Life. Citing an unnamed source Hollywood Life reported on Monday that Odom would sign with the Lakers if given the chance.
"It's very close if not already in the works that Lamar is reuniting with the Los Angeles Lakers," the source told HollywoodLife.com. "He wants to retire a Laker.

BEFORE YOU GO
PHOTO GALLERY
101 NBA Posterizations