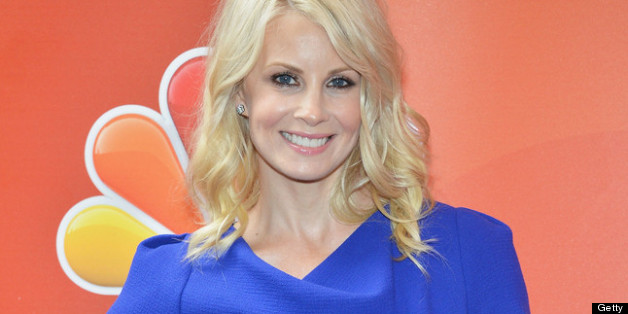 Monica Potter is getting a major haircut!
The "Parenthood" star tweeted on Monday that she'll be cutting her hair and asked her followers to weigh in on which of three looks they like best: dancing pro Julianne Hough's bob, British pop star Sarah Hardin's pixie cut, or Emma Watson's cropped cut.
Big news! Getting my hair cut & need your input! Pick your fave cut for me each day & Fri will be the big reveal!! :D pic.twitter.com/U27nB9z8sG

— Monica Potter (@monicapotter) July 8, 2013
Throughout Season 4 of "Parenthood," Potter's character Kristina Braverman battled breast cancer. The emotional storyline, which has garnered Potter tons of Emmy nomination buzz as of late, culminated with Kristina finishing chemotherapy and learning she was cancer-free (though her doctor hesitated to use the word "remission" for another year).
Potter wore a bald cap and wigs throughout the season, though she did consider shaving her head. "They asked me to but I said no," Potter told Us Weekly . "My daughter would have been freaked out. I thought about it but my Molly said, 'Mommy, don't do that.' She said, 'You don't have to do that, just wear a bald cap.' ... It's a weird thing for me when actresses shave their heads for roles. I feel like if I'm not going through it, it's almost, for me, a gimmick, like, 'Look, she is so brave she shaved her hair.' There are women who are going through that and I just didn't want to, you know…"
But it looks like Season 5 will see Potter cut her hair to mirror what a woman would look like as her hair grows back post-chemo. In addition to Kristina (and Potter's) new look, the actress said she hopes the new season will bring some lighter material. "I would hope that for poor Kristina, we'd see a lot of funnier moments next season," Potter told The Huffington Post towards the end of Season 4. "I like to do comedy and I think that'd be a lot of fun to show another side of her and just show her celebrating life ... She's always been sort of the cautious one, the meddler, the this and the that and it always came from a place of wanting to protect people. I also feel like going through this she's going to become a lot looser next year and ... she won't sweat the small things as much."
"Parenthood" Season 5 premieres on Thursday, September 26 at 10 p.m. ET on NBC.