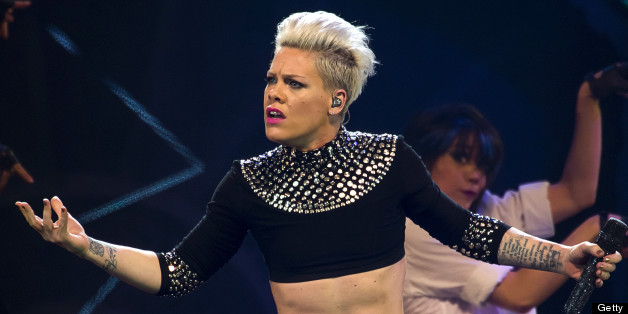 Pink's latest stop on her Truth About Love tour took a turn for the dramatic this weekend. The 33-year-old singer is currently in Melbourne, Australia for a series of eight shows at the city's Rod Laver Arena.
The first of the eight shows was held on Sunday night, when one fan attending the show tweeted an alarming message. Billboard reports that a 16-year-old Australian concert-goer was kicked out of the Rod Laver Arena and promptly arrested after he posted what seemed to be a bomb threat.
While the tweet has since been deleted, it reportedly read, "@Pink I'm ready with my Bomb. Time to blowup #RodLaverArena Bitch."
The teenager is denying that he was making any sort of threat, attributing the tweet to a misinterpreted reference to Pink's song "Timebomb," a bonus track off of the artist's latest album, "The Truth About Love."
The teen in question has reportedly been released from custody and is expected to face charges for the perceived threat.
"He didn't mean it like that," the young man's sister told the Australian publication Herald Sun. "He wrote it as in one of her songs is called 'Timebomb' and he forgot to put the 'Time' on there."
PHOTO GALLERY
BEFORE YOU GO
Pink