Frito-Lay clearly doesn't have an exclusive partnership with Taco Bell, with which it helped make the Mexican chain's wildly popular Doritos Locos tacos a reality. Recent reports suggest that Frito-Lay is cozying up to Subway for a new cross-promotional product, the Crunchy Chicken Enchilada Melt made with Fritos corn chips. (Frito-Lay produces both Doritos and Fritos.)
A representative for Subway confirmed that the new sandwich is in development, but would not offer further details. "We don't comment on products in test," he said.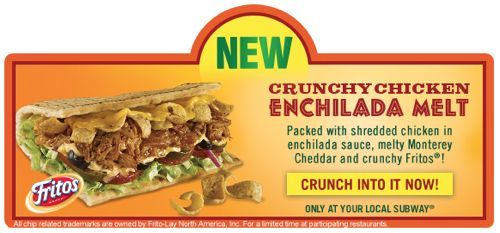 According to a description of the product written on a promotional image, the sandwich is "Packed with shredded chicken in enchilada sauce, melty Monterey Cheddar and crunchy Fritos." GrubGrade writes that it's in testing in at least central Florida and downtown Seattle.
If Subway did give the Crunchy Chicken Enchilada Melt a national distribution, it would be a departure for the chain -- Fritos isn't exactly a health product, and Subway has previously emphasized its healthy offerings. Granted, recent findings suggest that eating at Subway and McDonald's can be equally unhealthy for teens.
BEFORE YOU GO
PHOTO GALLERY
Subway's "Secret" Menu Items