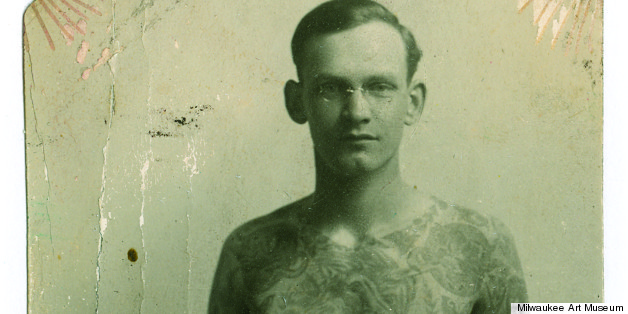 The Milwaukee Art Museum is currently honoring the work of the late Norwegian artist Amund Dietzel, whose preferred canvas was the human body.
The young Scandinavian took up tattooing during his time on a merchant ship in the early 1900s, at the tender age of 14. By the end of his time on the high seas Diezel had acquired tattoos of his own from neck to foot, earning the nickname of the "tattooed man." But after his ship suffered damage near Quebec, the artist took to land, showing off his painted body at carnivals and sideshows, until deciding to set up a small shop in Wisconsin's largest city. Dietzel was a tattoo pioneer when he opened up his first parlor in 1913, and was quickly dubbed the "Master of Milwaukee."
From twisted Chinese dragons to flirty sailor coquettes, Dietzel's tattooed visions have blossomed into a visual vocabulary that is still relevant today. "Tattoo" transports Dietzel's bold designs from parlor to gallery, blurring the boundaries between low and high brow worlds.
"Tattoo: Flash Art of Amund Dietzel" will show at the Milwaukee Art Museum until October 13, 2013.
Take a peek in the slideshow below and let us know if you decide to make your love for Dietzel's work permanent in the comments.
PHOTO GALLERY
Tattoo: Flash Art of Amund Dietzel