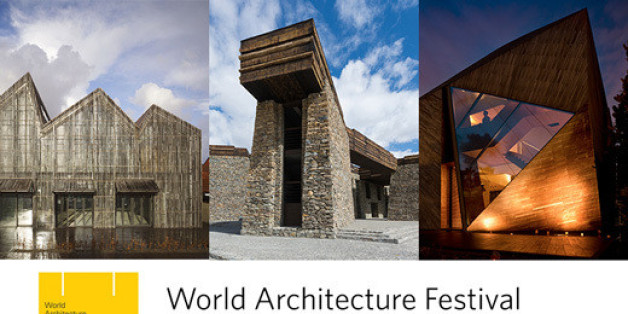 (Read original story here)
By Sebastian Jordana
More than 300 projects from almost 50 countries have been shortlisted for the World Architecture Festival 2013 -- the world's biggest architectural awards programme -- taking place between October 2-4 at Marina Bay Sands, Singapore.
The format of the event is unique as the professionals of the participating firms present to, and receive live feedback and commendation from, the WAF's jury, which this year includes architects such as such as William Alsop, Sir Peter Cook, Sou Fujimoto, Dietmar Eberle, Jeanne Gang, Marcio Kogan, and Ole Scheeren, among many others. It will be a live architecture performance, where you will debate, learn and be inspired. Projects designed by global architects such as Zaha Hadid, Tadao Ando, and Robert A.M. Stern will compete with smaller, local practices across 29 individual award categories.
"Following such strong competition at last year's awards, expectations were understandably high for the WAF Awards 2013, and the entries did not disappoint," stated Paul Finch, WAF Programme Director, in a press statement. "From the subtle to the spectacular, from a four room house to an 80 storey tower, the sheer quality and diversity reflected in the array of projects shortlisted today demonstrates the increasingly global nature of the event."
Scroll down for the WAF shortlist below. For more information, please visit WAF's official website.
University of Aberdeen New Library / Schmidt Hammer Lassen Architects / © Adam Mørk
Civic and Community
- Bad Aibling Rathaus / BEHNISCH Architekten / Germany
- Community Institution for Special Youth Support 'De Zande' / BURO II & ARCHI+I / Belgium
- Dailai Conference Hall / Vo Trong Nghia Architects / Vietnam
- DOCKED / Atelier Arcau / France
- Eyup Cultural Center and Marriage Hall / EAA-Emre Arolat Architects / Turkey
- Frederiksberg Courthouse / 3XN / Denmark
- Marysville Police Station / Kerstin Thompson Architects / Australia
- New Funeral Home in Sant Joan Despi / Batlle & Roig Architects / Spain
- University of Aberdeen New Library – Sir Duncan Rice Library / schmidt hammer lassen architects / United Kingdom
- West Kimberley Regional Prison / TAG Architects and iredale pedersen hook architects, architects in association / Australia
- Women's Opportunity Center / Sharon Davis Design / Rwanda
Mary Rose Museum / Wilkinson Eyre Architects / © Hufton+Crow
Culture
- Auckland Art Gallery Toi o Tamaki / Francis-Jones Morehen Thorp fjmt + Archimedia (Architects in Association) / New Zealand
- Eli & Edythe Broad Art Museum / Zaha Hadid Architects / United States of America
- George W. Bush Presidential Center / Robert A.M. Stern Architects / United States of America
- Heydar Aliyev Centre / Zaha Hadid Architects / Azerbaijan
- Jasper Place Branch Library / Hughes Condon Marler Architects / Canada
- Kaap Skil, Maritime and Beachcombers Museum / Mecanoo architecten / Netherlands
- Louisiana State Museum and Sports Hall of Fame / Trahan Architects / United States of America
- Mary Rose Museum / Wilkinson Eyre Architects / United Kingdom
- Museum for Architectural Drawing / SPEECH Tchoban & Kuznetsov / Germany
- Niigata City Konan Ward Cultural Center / Chiaki Arai Urban and Architecture Design / Japan
- The STAR / Aedas / Singapore, Republic of
- Wuzhen Theater / Artech Architects / China
Archifest Zero Waste Pavilion / WOW Architects / © Aaron Pocock
Display
- Archifest Zero Waste Pavilion / WOW Architects / Singapore, Republic of
- Artipelag / Nyréns Arkitektkontor / Sweden
- Auckland Zoo Giraffe House / Glamuzina Paterson + Monk / New Zealand
- Australian Age of Dinosaurs Visitor Centre / Cox Rayner Architects / Australia
- Bill & Melinda Gates Foundation Visitor Center / Olson Kundig Architects / United States of America
- Brooklyn Botanic Garden Visitor Center / Weiss/Manfredi Architects / United States of America
- Denmark's Aquarium – The Blue Planet / 3XN / Denmark
- Ecorium of the National Ecological Institute / SAMOO Architects & Engineers + Grimshaw Architects / Korea South
- Janamani Visitor Centre / Atelier TeamMinus / China
- Peace Pavilion / Atelier Zündel Cristea / United Kingdom
- The National Arboretum / Taylor Cullity Lethlean + Tonkin Zulaikha Greer / Australia
- The Warratah Studio / studio505 / Australia
The Kinghorn Cancer Centre / BVN Architecture / © John Gollings
Health
- Ballarat Regional Integrated Cancer Centre / Billard Leece Partnership / Australia
- Clienia – Lino Castle / dan pearlman + Markenarchitektur GmbH / Switzerland
- Knowledge Centre, St. Olavs Hospital / Nordic — Office of Architecture / Norway
- Livsrum – Cancer Counseling Center / EFFEKT / Denmark
- North London Hospice / Allford Hall Monaghan Morris / United Kingdom
- Psychiatric Hospital / Tengbomgruppen AB / Sweden
- Rush University Medical Center New Hospital Tower / Perkins+Will / United States of America
- Spaulding Rehabilitation Hospital / Perkins+Will / United States of America
- The Kinghorn Cancer Centre / BVN Donovan Hill / Australia
Knox Innovation Opportunity and Sustainability Centre / Woods Bagot / © Peter Bennetts
Higher Education/Research
- Centro Roberto Garza Sada de Arte Arquitectura y Diseño / Universidad de Monterrey + Tadao Ando Architect & Associates / Mexico
- Halley VI Antarctic Research Station / Hugh Broughton Architects / Antarctica
- John & Frances Angelos Law Center / BEHNISCH Architekten + Ayers Saint Gross / United States of America
- Kangan Institute, Automotive Centre of Excellence, Stage 2 / Gray Puksand / Australia
- Kent Vale – Faculty Housing / MKPL Architects Pte Ltd / Singapore, Republic of
- Knox Innovation, Opportunity and Sustainability Centre (KIOSC) / Woods Bagot / Australia
- ON THE CREST / Atelier Arcau / France
- Rikkyo Lloyd Hall / NIKKEN SEKKEI LTD / Japan
- Sanford Consortium for Regenerative Medicine / Fentress Architects + Davis Davis Architects (Associate Architect) / United States of America
- Sunshine Construction Futures / Cox Architecture / Australia
- Swanston Academic Building, RMIT University / Lyons / Australia
- The University of Queensland Advanced Engineering Building / Richard Kirk Architect + HASSELL – Architects in Association
- Translational Research Institute / Wilson Architects + Donovan Hill / Australia
- University of Exeter: Forum Project / Wilkinson Eyre Architects / United Kingdom
Kontum Indochine Café / Vo Trong Nghia Architects / © Hiroyuki Oki
Hotel/Leisure
- Akmani Legian / TWS&Partners / Indonesia
- Casa De La Flora / VaSLab Architecture (VaSLab Co., Ltd.) / Thailand
- CitizenM London Bankside / concrete / United Kingdom
- Fazenda Boa Vista | SPA / Isay Weinfeld / Brazil
- Hotel Indigo / Aedas / Hong Kong
- Kami SPA Parioli / Carlo Berarducci Architecture / Italy
- Kontum Indochina Café / Vo Trong Nghia Architects / Vietnam
- Mug Hakdong / Hyunjoon Yoo Architects / Korea South
- Nippondaira Hotel / NIKKEN SEKKEI LTD / Japan
- PARKROYAL on Pickering / WOHA / Singapore, Republic of
- Tea House-Bamboo Courtyard / HWCD / China
- The floating islands: Palm Island, Chongqing / HASSELL / China
- Treehouse / Sharon Davis Design / United States of America
- Vivanta by Taj – Gurgaon / WOW Architects / India
- W Guangzhou Hotel & Residences / Rocco Design Architects Ltd / China
House House / Andrew Maynard Architects / © Peter Bennetts
House
- Arena House / Prow Architects Pte Ltd / Singapore, Republic of
- Artist's House and Atelier / MODUS architects ATTIA SCAGNOL / Italy
- Courtyard House / formwerkz architects / Singapore, Republic of
- Diamond House / formwerkz architects / Singapore, Republic of
- Distort House / TWS&Partners / Indonesia
- Extended House / formwerkz architects / Singapore, Republic of
- HOURGLASS HOUSE / Atelier Arcau / France
- HOUSE House / Andrew Maynard Architects / Australia
- Lavender Bay Boatshed / Stephen Collier Architects / Australia
- Murugan House / KSM Consultants / India
- Planalto House / Flavio Castro architects + FC Studio / Brazil
- S Cube Chalet / AGi Architects / Kuwait
- S11 House / ArchiCentre Sdn Bhd / Malaysia
- The Left-Over-Space House / Cox Rayner Architects + Casey and Rebekah Vallance / Australia
- the Nest / a21studio / Vietnam
- THR350 / Aedas / Hong Kong
İpera 25 / Alataş Architecture & Consulting / © Gürkan Akay
Housing
- 28th Street Apartments / Koning Eizenberg Architecture, Inc. / United States of America
- 360º Building / Isay Weinfeld / Brazil
- 387 Tamaki Drive / ian moore architects / New Zealand
- 6 Remez Tower / Moshe Tzur Architects and Town Planners Ltd. / Israel
- 8 flats low cost renovation / Miralles Tagliabue EMBT / Spain
- Aria / MPRDG Pty Ltd / Australia
- ASCENTIA SKY / P&T Consultants Pte Ltd. / Singapore, Republic of
- B11 / MAD arkitekter / Norway
- Barajas Social Building Block / Miralles Tagliabue EMBT / Spain
- Comercio 117 / Archetonic S.A. de C.V. / Mexico
- Ideo Morph 38 / Somdoon Architects Ltd / Thailand
- IPERA 25 / Alatas Architecture & Consulting / Turkey
- One Eagle Place / Eric Parry Architects / United Kingdom
- Oracle / DBI Design / Australia
- Shunde Lakeside Condominium / New Space Architects Pte Ltd / China
- Via 31 / Somdoon Architects Ltd / Thailand
- Vicem Bodrum Residences / EAA-Emre Arolat Architects / Turkey
Nova Scotia Power Corporate Headquarters / WZMH Architects / © Tom Arban
New and Old
- Benson Radiology / Tridente Architects / Australia
- Chedworth Roman Villa Conservation and Visitor Building / Feilden Clegg Bradley Studios LLP / United Kingdom
- Conversion of the Palais Rasumofsky / Baar-Baarenfels Architekten / Austria
- Dardanel Administration Building / Alatas Architecture & Consulting / Turkey
- Fai Fah / Spark Design Consulting Singapore Pte Ltd / Thailand
- L'Oréal Academy / Miralles Tagliabue EMBT / Spain
- Nova Scotia Power Corporate Headquarters / WZMH Architects / Canada
- One Eagle Place / Eric Parry Architects / United Kingdom
- PLACE DE LA REPUBLIQUE / Atelier Arcau / France
Te Koputu a te Whanga a Toi : Whakatane Library & Exhibition Centre / Irving Smith Jack Architects Ltd / New Zealand
- Väla gård / Tengbomgruppen AB / Sweden
One One Eagle Street / Cox Rayner Architects / © Christopher Frederick Jones
Office
- 48 North Canal Road / WOHA / Singapore, Republic of
- 72 SCREENS / Sanjay Puri Architects Pvt. Ltd. / India
- Administrative Building for the World Intellectual Property Organisation / BEHNISCH Architekten / Switzerland
- Al Bahr Towers / Aedas Ltd. / United Arab Emirates
- Astana Media Center / tabanlioglu architects / Kazakhstan
- Botanic House / FORMATION ARCHITECTS / United Kingdom
- Chesapeake Building 12 / Elliott + Associates Architects / United States of America
- Damiani Holz&Ko Office Headquarters / MODUS architects ATTIA SCAGNOL / Italy
- Esas Aeropark / tabanlioglu architects / Turkey
- Lazona Kawasaki Toshiba Building / NIKKEN SEKKEI LTD / Japan
- One Eagle Place / Eric Parry Architects / United Kingdom
- One One One Eagle Street / Cox Rayner Architects / Australia
- Pearl River Tower / Skidmore, Owings & Merrill LLP / China
- Point 92 / ZLG SDN. BHD. / Malaysia
- Statoil Regional and International Offices / a-lab / Norway
- Väla gård / Tengbomgruppen AB / Sweden
- Yokohama Mitsui Building / NIKKEN SEKKEI LTD / Japan
Lecor / Kjellgren Kaminsky Architecture / © Kalle Sanner
Production/Energy/Recycling
- A Simple Factory Building / Pencil Office / Singapore, Republic of
- Adelaide Desalination Plant and Kauwi Interpretive Centre / Woodhead / Australia
- District Heating Plant / markus tauber architectura /Italy
- Farsons New Brewhouse / Architecture Project / Malta
- LANDSCAPING / Atelier Arcau / France
- Lecor / Kjellgren Kaminsky Architecture / Sweden
- Medhurst Winery / Folk Architects / Australia
Dapto Anglican Church Auditorium / Silvester Fuller / © Martin van der Wal
Religion
- Bethel Assembly Of God Church / LAUD Architects Pte Ltd / Singapore, Republic of
- Chigasaki zion Christian church/Mihato kindergarten / Tezuka Architects / Japan
- Congregation Or Hadash Synagogue / BLDGS / United States of America
- DACA – Dapto Anglican Church Auditorium / Silvester Fuller / Australia
- Ekleshai Devi Temple / AEMMXII + Architects / India
- sancaklar mosque / EAA-Emre Arolat Architects / Turkey
- Singapore Bible House / LAUD Architects Pte Ltd / Singapore, Republic of
- Singapore Life Church / LAUD Architects Pte Ltd / Singapore, Republic of
- St Barnabas Church / Francis-Jones Morehen Thorp / Australia
- Water-Moon Monastery / Artech Architects / Taiwan
Fontys Sports College / Mecanoo / Courtesy of Mecanoo
Schools
- Dallas Brooks Community Primary School / McBride Charles Ryan / Australia
- Fontys Sports College / Mecanoo architecten / Netherlands
- Kingswood Academy / Allford Hall Monaghan Morris / United Kingdom
- Kohler Environmental Center / Robert A.M. Stern Architects / United States of America
- Preschool, Kindergarten and Family Center / MODUS architects ATTIA SCAGNOL / Italy
- Xiuning Shuanglong Primary School / WSP ARCHITECTS / China
Emporia / Wingårdhs / © Tord-Rikard Söderström
Shopping
- BUYAKA / URAS X DILEKCI ARCHITECTS / Turkey
- Emporia / Wingårdh Arkitektkontor AB / Sweden
- L'Avenue Shanghai / Leigh & Orange Ltd. / China
- Mackelvie Street / RTA Studio / New Zealand
- No Name Shop / Ayeneh Office / Iran
- Starhill Gallery / SPARK / Malaysia
Ice Hockey Stadium Of Ondrej Nepela / Fischer Architects / © Pavel Meluš
Sport
- Ice Hockey Arena of Ondrej Nepela / Atelier Fischers/ Slovakia
- Mall of Asia Arena/ Arquitectonica/ Philippines
- Palace of water sports/ SPEECH Tchoban & Kuznetsov / Russia
- Perth Arena/ ARM+CCN / Australia
- Prince Alfred Park + Pool Upgrade / City of Sydney c/o Neeson Murcutt Architects Pty Ltd / Australia
- Splashpoint Leisure Centre / Wilkinson Eyre Architects / United Kingdom
- Wanangkura Stadium / ARM+CCN / Australia
Wulai Parking Structure / QLAB / Courtesy of QLAB
Transport
- Barrakka Lift / Architecture Project / Malta
- Bengbu High Speed Rail Plaza/ Verse Design/ China
- CTA Morgan Station / Ross Barney Architects/ United States of America
- Marina Bay Cruise Centre Singapore / RSP Architects Planners & Engineers (Pte) Ltd / Singapore, Republic of
- Oshiage Bicycle Parking / Nikken Sekkei Ltd / Japan
- South Morang Rail Extension / Cox Architecture / Australia
- Sydney Cruise Terminal / Johnson Pilton Walker Architects / Australia
- Wulai Parking Structure / Q-Lab / Taiwan
JKC2 / ONG&ONG Pte Ltd / © Aaron Pocock
Villa
- Alexandra Tent House / Irving Smith Jack Architects Ltd / New Zealand
- Informal House / Koning Eizenberg Architecture, Inc. / United States of America
- JKC2 / ONG&ONG Pte Ltd / Singapore, Republic of
- LM Guest House / Desai Chia Architecture PC / United States of America
- MM House / Studio MK27 / Brazil
- Namly House / CHANG Architects / Singapore, Republic of
- Pinheiro house / StudioMK27 / Brazil
- Point King Residence / HASSELL / Australia
- Six Senses Winegallery / markus tauber architectura / Italy
- Stone House / Vo Trong Nghia Architects / Vietnam
- VILLA SCHÖNEICHE / Hammoodi & Partner / Germany
LANDSCAPE PROJECTS
The Australian Garden / Taylor Cullity Lethlean + Paul Thompson / © John Gollings
Completed Designs – Urban
- Central Plaza Chiang Rai / Shma Co., Ltd. Architects 49 Limited / Thailand
- Eastside City Park / Patel Taylor / United Kingdom
- Gebran Tueni Memorial  / Vladimir Djurovic Landscape Architecture / Lebanon
- Hariri Memorial Garden / Vladimir Djurovic Landscape Architecture / Lebanon
- Hornsbergs strandpark / Nyréns Arkitektkontor / Sweden
- Prince Alfred Park + Pool Upgrade / City of Sydney c/o Neeson Murcutt Architects Pty Ltd / Australia
- Qunli Stormwater Park:A Green Sponge for a Water-Resilient City / Turenscape / China
- The Australian Garden / Taylor Cullity Lethlean + Greg Burgess Architects + Kirsten Thompson Architects / Australia
- WYNE / Sanitas Studio DS Studio / Thailand
FUTURE PROJECTS
Commercial Mixed-Use
- Commercial at Wakad,Pune / Architect Seema Puri &Zarir Mullan / India
- Halaskargazi Mixuse / tabanlioglu architects / Turkey
- Hong Kong Arcology Skyscraper / Weston Williamson + Partners / Hong Kong
- LATITUD 19 / Arqmov Workshop / Mexico
- mecidiyekoy towers / EAA-Emre Arolat Architects / Turkey
- New Office in Central London / Allford Hall Monaghan Morris / United Kingdom
- Shopping Mall Butovo / blank architects / Russia
- The One / Arquitectonica / Vietnam
Busan Opera House Second Prize Winning Proposal / designcamp moonpark dmp / Courtesy of designcamp moonpark dmp
Competition Entries
- Busan Opera House / designcamp moonpark dmp / Korea South
- Kucukcekmece College Campus / tabanlioglu architects / Turkey
- mardin artuklu university religious complex / EAA-Emre Arolat Architects / Turkey
- National Maritime Museum of China / Cox Rayner Architects / China
- New National Stadium Japan,Tokyo / tabanlioglu architects / Japan
- San Giacomo Church / Miralles Tagliabue EMBT / Italy
Sejong Art Center Winning Proposal / DMP Partners / Courtesy of DMP Partners
Culture
- Grangegorman Library Complex / Moore Ruble Yudell Architects & Planners DMOD / Ireland
- Museum of Ancient Chinese Oracles of Anyang / TONTSEN Fangda Design Group / China
- Museum of the Built Environment / FXFOWLE / Saudi Arabia
- National Maritime Museum of China / Cox Rayner Architects / China
- Sejong Art Center / designcamp moonpark dmp abline / Korea South
- Southbank Centre / Feilden Clegg Bradley Studios LLP / United Kingdom
- Syrian Orthodox Church in Istanbul / Suyabatmaz Demirel Architects / Turkey
- World Confucianism•Sunbi Culture Park & Korean Cultural Theme Park / Samoo Architects & Engineers / Korea South
The New Urban School, Mixed Use Sports Complex Proposal / EFFEKT + Rubow / Courtesy of EFFEKT + Rubow
Education
- Khalifa University Extension / RSP Architects Planners & Engineers / United Arab Emirates
- Kucukcekmece College Campus / tabanlioglu architects / Turkey
- MEB Campus in Milas / steb | studio evren basbug Tamirci Architects / Turkey
- Melbourne Girls Grammar School / BVN Donovan Hill / Australia
- THE COMPASS Innovative Bioclimatic European School Complex / OFFICETWENTYFIVEARCHITECS / Greece
- The Urban School in Elsinore / EFFEKT Rubow / Denmark
- University of Amsterdam / Allford Hall Monaghan Morris / Netherlands
- University of Reading, Malaysia / Scott Brownrigg / Malaysia