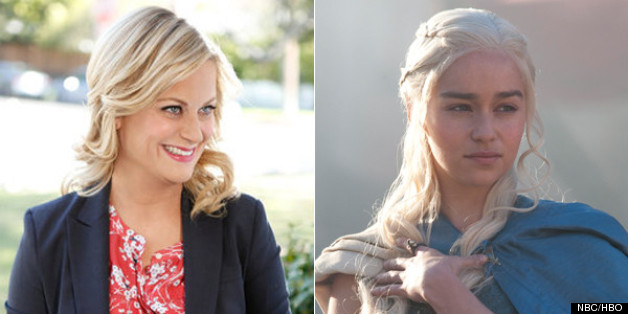 There's no secret that the writers of "Parks and Recreation" love "Game of Thrones."
The last few seasons have contained at least one reference -- "What is wrong with you today? Did they cancel 'Game of Thrones'?" -- to the popular HBO drama. And in a new interview with Time Out New York, series star Amy Poehler fantasized about how her cast from "Parks and Rec" would fit into "Game of Thrones.
"Well, come on, I would be Khaleesi [Daenerys Targaryen], of course," Poehler said referring to her character Leslie Knope. "Ben would probably be Jon Snow, because he's so tormented. Ron would be Stannis Baratheon."
Time Out New York suggested Tammy 2 (Megan Mullally) as Ron's (Nick Offerman) Melisandre. "Yes! And Tom would be ... Uh oh, I hate to break it to Aziz [Ansari], but Tom would be, like, Theon Greyjoy, which is not good right now. Ann would be Sansa, April would be Arya, and Andy would be one of the dragons. [Laughs.]"
EW previously imagined what would happen if producers from "Game of Thrones" and "Parks and Recreation" wrote episodes of each other's shows. The results are here.
PHOTO GALLERY
Amy Poehler Casts 'Parks & Rec' Cast In 'Game Of Thrones'